Joe Rogowski '00 is Director of Physiology and Research for National Basketball Players Association
July 9, 2015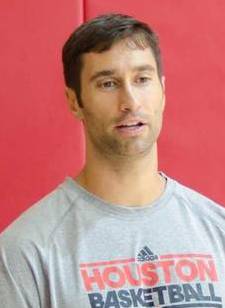 Joe Rogowski, a 2000 graduate of DePauw University, has been named director of physiology and research for the National Basketball Players Association (NBPA), a labor union that represents basketball players in the National Basketball Association (NBA). "In this role, Rogowski will serve as the union's liaison on issues relating to player health and safety and will develop best practices regarding player conditioning and injury mitigation," notes today's announcement. "He will also be available to provide personal training and appropriate referrals to individual members."
"Joe has earned the admiration and respect of a huge swath of the professional basketball community -- within the league, among members and coaches and, most importantly, our player," says Michele Roberts, executive director of the NBPA. "His addition to our staff provides us with the capability to identify and manage the medical and physical challenges faced by our members on and off the court."
Rogowski comes to his new position from the NBA's Houston Rockets, where he served as director of science and research. He was previously head strength and conditioning coach for the Orlando Magic and has authored published articles relating to injury prevention, strength and conditioning,
performance analytics and echocardiology. He's also been an adjunct instructor in exercise physiology at the University of Florida and as president of the NBA Strength Coaches Association. He's also served on the NBA Science Advisory Committee and the NCAA Cardiac Task Force.
Rogowski, who majored in physical performance (sports medicine) and played football at DePauw, went on to earn a master' degree in exercise physiology from the University of Central Florida.
Read more here.
Back