Ed Garnes '99 Featured in Young Black Entrepreneur
July 10, 2015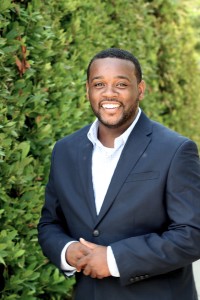 "I get a charge out of supporting my own," Ed Garnes Jr., a 1999 graduate of DePauw University, tells Young Black Entrepreneur. The founder of From Afros to Shelltoes, a community-based organization, is featured in the latest issue of the Atlanta-based magazine.
"It was something instilled in me by my parents and grandparents," Garnes states. "I have long believed our destiny as black folks is linked to our ability to generate income for ourselves. We have to be about institution building and black business because those are the foundations for wealth creation."
Access the piece here (it begins on page 29).
An English (writing) major at DePauw, Edward M. Garnes Jr. holds an M.A. in counseling from Michigan State University. He contributed essays to the anthologies, Where Did Our Love Go and Not In My Family: AIDS in the African American Community.
Garnes was back at DePauw in April as a presenter for the Philanthropy & Excellence Weekend.
Back