Douglas Hallward-Driemeier '89, Attorney Who Successfully Argued Same-Sex Marriage Case Before SCOTUS, to Speak Oct. 26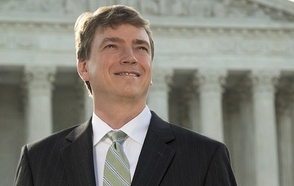 August 26, 2015
Douglas Hallward-Driemeier, the attorney and 1989 DePauw University graduate whose arguments helped persuade the U.S. Supreme Court to rule in favor of same-sex marriage this summer, will return to his alma mater on Monday, October 26, to present a Timothy and Sharon Ubben Lecture.
The 7:30 p.m. speech, "The Power of Ideas: The Journey from East College to the Supreme Court," will take place in the Green Center's Kresge Auditorium (605 S. College Avenue). Like all Ubben Lectures, the event is presented free of admission charge and is open to everyone.
Doug Hallward-Driemeier is managing partner of Ropes & Gray's Washington, D.C. office and leads the firm's Appellate and Supreme Court practice. He has presented more than 50 appellate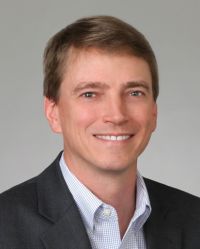 arguments, including 16 cases before the U.S. Supreme Court. He has briefed and argued both civil and criminal matters covering a wide range of subjects and has particular experience in the areas of intellectual property, bankruptcy, the False Claims Act, securities litigation, and antitrust. He also has extensive experience litigating issues of concern to companies and foreign governments with international activities, including the Alien Tort Statute, the Foreign Sovereign Immunities Act, and forum non conveniens.
Hallward-Driemeier rejoined Ropes & Gray in 2010 after spending more than a decade handling civil appeals and Supreme Court litigation for the U.S. Department of Justice. Between 2004 and 2009, he was an Assistant to the Solicitor General, where he briefed and argued cases on behalf of the United States before the Supreme Court. Listed among the Best Lawyers in America, Hallward-Driemeier received the U.S. Department of State's "Superior Honor Award" in recognition of successful representation of the United States in numerous appeals involving World War II-era claims and has been presented with three commendations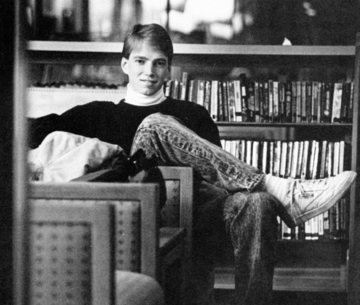 for outstanding service by the U.S. Justice Department's Civil Division.
A native of Missouri, Doug Hallward-Driemeier's first job was mowing lawns in middle school. A political science major and Spanish minor at DePauw, he was named a Rhodes Scholar during his senior year and was awarded the 1989 Walker Cup. His father, Donald Driemeier, is a 1960 graduate of DePauw, and his aunt (Joan Driemeier Haskin '64) and two sisters (Doni Driemeier-Showers '86 and Debra Driemeier Danen '92) are also alumni.
Hallward-Driemeier earned a master's of philosophy in politics at Oxford University and a J.D. from Harvard Law School.
He argued the same-sex marriage case before the high court in April. On June 26, in a landmark decision, the Supreme Court ruled 5-to-4 that states cannot keep gay couples from marrying and must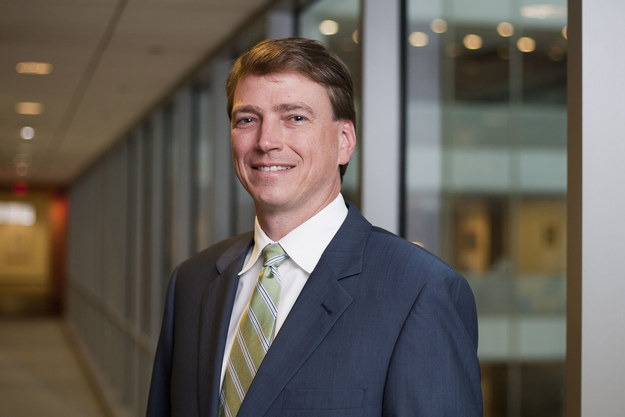 recognize their union.
"One of the things that's been so special about being involved in this case was that one of our arguments was about how fundamental marriage is to one's life, and I truly believe that to the core of my being," Hallward-Driemeier recently told the Washington Business Journal.
"The fundamental right to marry has been recognized by the court for more than half a century," he explained to NPR on the day the ruling was made public. "The court held in 1967 that the states could not prevent interracial couples from marrying, they've held that prisoners cannot be prevented from marrying, they've held that someone cannot be prevented from marrying because they're not up to date on their child support. The fundamental nature of the right has already been recognized, so it was just a question of whether these marriages of same-sex couples are indeed marriages in the constitutional sense. And I'm thrilled that a majority of the court recognized that they are."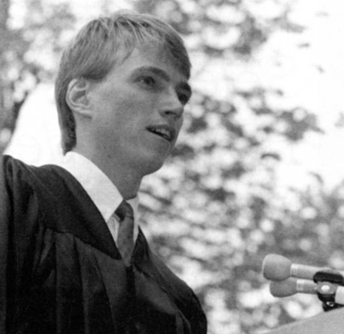 On May 20, 1989, the day he received his undergraduate degree from DePauw, Hallward-Driemeier addressed his classmates and their families on East College lawn during the University's 150th commencement. "Idealism sets before us the vision of a better society, and challenges us to achieve it," Driemeier stated. "Idealism, properly informed by an understanding of the present reality, allows us through its faith in the possibility of progress, to begin the slow process of building a better world."
Established in 1986 through the generous support of 1958 DePauw graduates Timothy H. and Sharon Williams Ubben, the Ubben Lecture Series was designed to "bring the world to Greencastle" and has presented 101 programs. As previously announced, human rights activist and author Yeonmi Park will visit DePauw October 5.
Other previous Ubben Lecturers have included Margaret Thatcher, Jimmy Kimmel, Mikhail Gorbachev, Bill Clinton, Benazir Bhutto, Tony Blair, Spike Lee, Dan Quayle '69,
F.W. de Klerk (pictured at left), Elie Wiesel, Jesse Jackson, Andrew Luck, David Brooks, Gen. Colin Powell, Jane Goodall, John Major, Shimon Peres, Roberts Gates, Ron Paul, Willy Brandt, Bret Baier '92, Gwen Ifill, Piper Kerman, Jimmy Wales, Brian Mulroney, Mike Krzyzewski, Oscar Arias, Ambassador L. Paul Bremer, Julian Bond, Gen. Wesley Clark, Bob Woodward, Greg Mortenson, Naomi Wolf, Peyton Manning, Michio Kaku, Ross Perot, Paul Volcker, Karl Rove, Howard Dean, Doris Kearns Goodwin, Eric Schlosser, Harry Belafonte, Carl Bernstein, Leymah Gbowee, Richard Lugar, Todd Rundgren, Seymour Hersh, Sam Donaldson, Martin Luther King III, Liz Murray, David McCullough, Jane Pauley, Lee Hamilton '52, David S. Broder, Jason Reitman, Jim Lovell, Candy Crowley, William J. Bennett, ice cream entrepreneurs Ben Cohen & Jerry Greenfield, Ralph Nader, Charles Fishman, Bill Bradley, Ferid Murad '58, David Ho, Allen Neuharth, Andrew Young, Burton
Gerber, Paul Tsongas, Zbigniew Brzezinski, George Will, Ken Burns, Jim Alling '83, Carl Rowan, David Gergen, Sister Helen Prejean, Mitch Albom and many others. (at left: Sharon and Tim Ubben with Tony Blair; March 3, 2008)
To view a complete roster of Ubben Lecturers -- which includes links to video clips and news stories -- click here. Video montages of many events are available on YouTube.
A student-produced video history of the Ubben Lecture Series was created in 2008. It can be accessed here and is also embedded below.
Back