Courtney Knies '10 Helps Develop Community's 'ChalkTalk' Program
August 14, 2015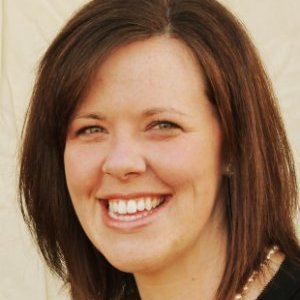 An article in Indiana's Dubois County Herald, headlined "ChalkTalk: New chalkboard draws big crowds in Indiana town of Ferdinand," notes that Courtney R. Knies, a 2010 graduate of DePauw University, helped develop the new community program. Sponsored by the Dubois County Leadership Academy, it puts old chalkboards in public places where people -- especially youngsters -- can express themselves.
"Knies thought of ChalkTalk during the creative community meeting at the Dubois County Community Foundation on Sept. 18," notes the newspaper. "She remembered a chalk board on one of the lawns at her college, DePauw University in Greencastle, Indiana, that students were free to write and draw on. She thought it would be a cool concept to bring to Dubois County, so when her Leadership Academy team met on April 25, she pitched the idea. The team got 11 chalkboards from the Maple Park Elementary School demolition."
"One of them still had a lesson from the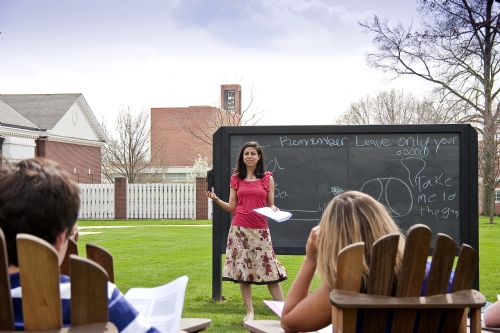 last day of school on it," says Knies, who was a sociology major and political science minor at DePauw and is now executive director of Mentors for Youth of Dubois County. "That was pretty cool." (at left: an April 2010 psychology class taught on DePauw's East College lawn)
The story was written by Leann Burke, a May 2015 graduate of DePauw and former editor of the student newspaper. Read it here.
Back