Presidents Obama and Clinton Prepare to Join in Celebration of Vernon Jordan's ('57) 80th Birthday
August 14, 2015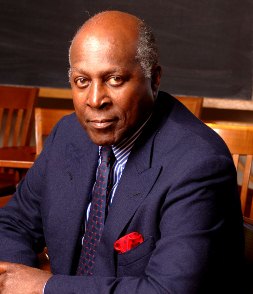 On the eve of Vernon Jordan's 80th birthday, Bloomberg writes of the 1957 DePauw University graduate, "Even more than that of the nation's first African-American president, Jordan's life mirrors an arc of American history: As a young man in Jim Crow Georgia, his first job was chauffeuring a white banker who was shocked that he could read. Now he counts some of America's most wealthy and powerful citizens as friends and CEOs of Fortune500 companies are proud to call him a mentor."
Margaret Talev writes, "No one has played a more pivotal role in furthering U.S. civil rights in the last half century than Jordan, says Henry Louis Gates Jr., a Harvard University professor and historian of African-American life. He is 'kind of the Rosa Parks of Wall Street,' said Gates, who credited Jordan with integrating corporate boardrooms. 'He realized that the first phase of the modern civil rights movement was fighting legal segregation, but the roots of racism were fundamentally economic.' "
President Obama and Bill and Hillary Clinton are among those who will attend a birthday party for Jordan on Martha's Vineyard this weekend, notes the article, which describes "Jordan's personal journey: Graduating DePauw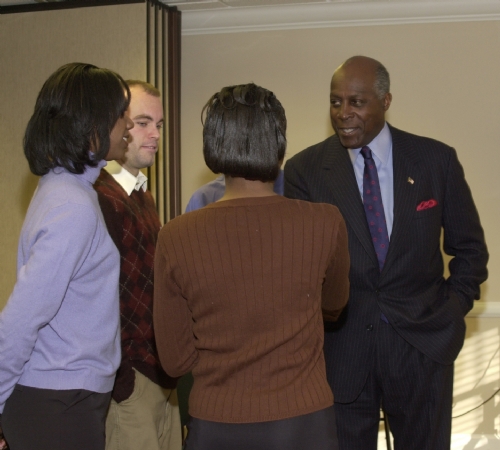 University in Indiana as the only black student in his class, then among peers at Howard Law, and rising quickly through the NAACP, the Voter Education Project, United Negro College Fund, and Urban League, roles that placed him at the center of the civil rights movement." A longtime adviser to Bill Clinton, Jordan is still active in the law firm of Akin Gump Strauss Hauer & Feld and at Lazard Freres & Co., a financial advisory and asset management firm. (at left: Vernon Jordan visits with DePauw students during a campus visit)
"He's in my view a catalytic agent of change," says American Express CEO Ken Chenault. "He's been able to transform society, go into business, transform business," and for years has been "positioning people for important roles in companies."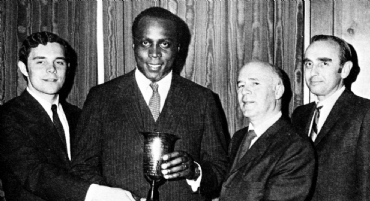 As he enters his 80th year, Jordan says, "It's very important to know when to stop. At some point, I'll have to deal with that. But the notion of waking up with nothing to worry about other than your tee time scares the hell out of me."
The complete article -- "From Jim Crow to Wall Street: Vernon Jordan Turns 80" -- is accessible here. (photo at right: March 23, 1969; Jordan receives DePauw's Old Gold Goblet, l-r: student body president James Nenhuis, Vernon Jordan, DePauw President William E. Kerstetter and Robert J. Lavidge, president of the alumni association)
A political science major as an undergraduate, Vernon E. Jordan Jr. is an advisory member of DePauw's Board of Trustees. Jordan has twice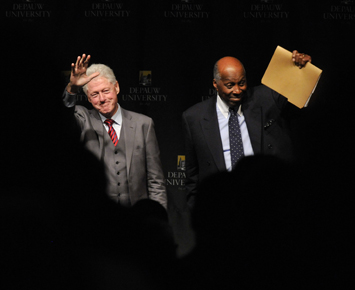 presented the commencement address at DePauw, in 1973 and 1993.
In December 2009, he was one of eight individuals presented with the Du Bois Medal, the highest honor awarded by the Harvard University Institute of Politics' W.E.B. Du Bois Institute. He's also been honored with the Spingarn Medal, the NAACP's highest honor for achievement, and the Trumpet Award. In 2014 he received The American Lawyer magazine's Lifetime Achievement Award.
On November 18, 2011, Vernon Jordan introduced Bill Clinton as the former president delivered DePauw's 25th anniversary Ubben Lecture. A summary of the event can be accessed here; video of the introduction is embedded below.
Back