576 Receive DePauw Degrees at University's 150th Commencement
May 20, 1989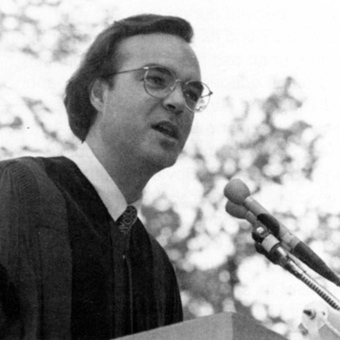 May 20, 1989, Greencastle, Ind. - "There is no question in my own mind that failure is the foundation on which the greatest prayers are built, and that no one can fully savor the satisfaction of accomplishment unless one can contrast the feelings of hopes dashed or of goals missed," James B. Stewart told DePauw University's Class of 1989. Stewart, page one editor of the Wall Street Journal and 1973 graduate of DePauw, delivered the primary address to 576 graduates and their families, friends and DePauw faculty and administration.
The ceremonies, the 150th in DePauw's history, took place on the lawn of historic East College.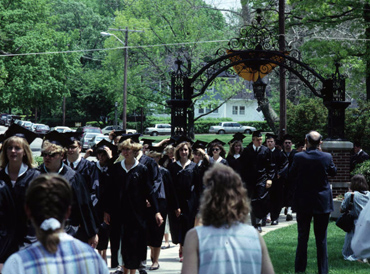 Bachelor's degrees were awarded to 500 in the College of Liberal Arts, 26 in the School of Music and 15 in the School of Nursing. Two persons received M.A. degrees, and 22 were awarded masters of arts in teaching.
A Rector Scholar, editor of The DePauw and a member of Phi Beta Kappa during his undergraduate days, Jim Stewart earned a law degree from Harvard in 1976. He helped launch American Lawyer magazine and joined the Wall Street Journal in 1973. In 1988 Stewart won the Pulitzer Prize for Explanatory Journalism for his articles about the 1987 dramatic upheaval in the stock market and insider trading.
"People who love what they do tend to succeed," he told the graduating class.
The Class of 1989 also heard from classmate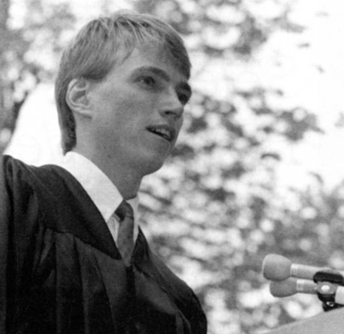 Douglas H. Driemeier, the winner of this year's Walker Cup, which is given annually to the senior judged to have done the most for DePauw. Driemeier is also the University's first Rhodes Scholar.
"Idealism sets before us the vision of a better society, and challenges us to achieve it," Driemeier said today. "Idealism, properly informed by an understanding of the present reality, allows us through its faith in the possibility of progress, to begin the slow process of building a better world."
He noted, "Where among our nation's leaders are those who would challenge us to make a better society? Republicans and Democrats alike have consigned themselves to defeat: that the welfare system cannot be reformed so as to break the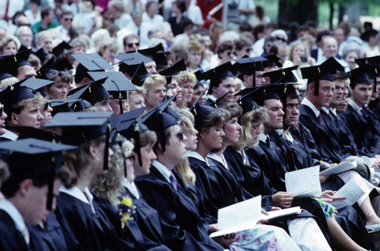 cycle of poverty, that race will always be a determining factor in voting behavior, that decent medical care can never be available to all of our citizens.
"These leaders appeal to our baser emotions of racism, fear, and blind patriotism rather than to our intellect in making their bid for election," Driemeier declared. "By appealing to our baser emotions they cause us to rely more heavily on them rather than to rise above them."
Honorary doctoral degrees were awarded today to: John M. Cassady '60, dean of the College of Pharmacy at Ohio State University; Irving B. Harris, president and director of Standard Shares and chairman of the executive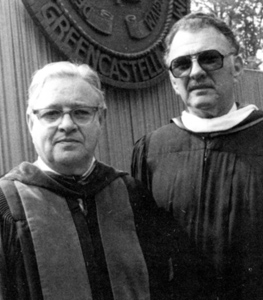 committee of Pittway Corp.; Mary Beth Norton, a history professor at Cornell University and a nationally recognized scholar in women's history; and John Jacob Oliver Sr. '34, a retired executive and current chairman of the board of directors of Afro-American Newspapers Inc.
During today's ceremonies, the University also recognized two retiring faculty members: Robert Loring, who served 41 years as the only faculty member in the geography program; and John Ricketts, a professor of chemistry since 1952. (photo, l-r: John Ricketts and Robert Loring)
Back