DePauw University Orchestra Presents Season Opener Sunday
September 14, 2015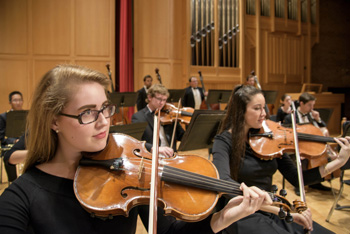 Inspired by the recent campus visit by the conductorless orchestra A Far Cry, the DePauw University Orchestra concert this Sunday will open with a performance, sans conductor, of the overture to Mozart's opera The Abduction from the Seraglio, providing an avenue into the students' new 21st Century Musician curriculum. The orchestra, led by music director Orcenith Smith, presents its first performance of the fall semester September 20 at 3 p.m. in Kresge Auditorium, located within the Judson and Joyce Green Center for the Performing Arts.
Featured on the program will be Russian composer Dmitri Shostakovich's monumental Symphony No. 5. Written in 1937, during the oppressive years of the Stalin regime, the piece provides a powerful viewpoint on music's capacity to sound the fear of backlash from the regime, while also generating triumphant hope for the future.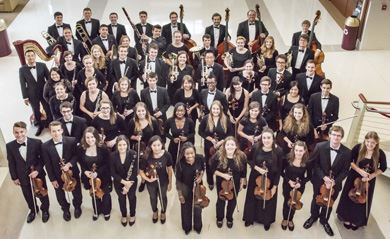 "In the face of desperate times, the young Shostakovich, whose family members had already been kidnapped and were likely dead, was struggling to understand the oversight of the politicians who deemed his music inappropriate," said Professor Smith. "He feared for his life. What he wrote as 'An Artist's Reply to Just Criticism' was his Symphony No. 5.
The conductor adds, "This now famous, emotionally power-packed work plumbs political oppression, desperation and ultimately triumphs. Our DePauw students are giving their all in portraying this setting and understanding the dynamic of the narrative and the technical commitment needed to get there."
Winner of a 1991 ASCAP Award for "Adventuresome Programming of Contemporary Music," the DePauw University Orchestra maintains an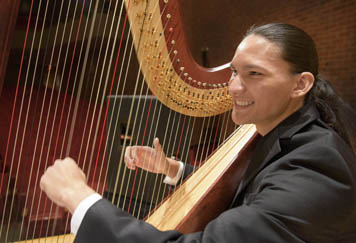 active schedule. An all-undergraduate organization, the orchestra focuses on performing and reading music of the standard repertoire, creating a four-year overview that is a cross-section of music including most style periods, regional influences and genres.
General admission tickets to DePauw University Orchestra's concerts are $3; tickets for seniors, children and all students are free. For more information and online purchases, visit www.depauw.edu/music/tickets. To obtain tickets in person on any weekday, stop by the School of Music main office in the Green Center. The venue's box office will also be open beginning one hour prior to Sunday's performance.
Back