Michael Neill '82 Joins First Mid-Illinois Bank & Trust
September 22, 2015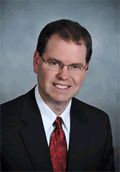 Michael G. Neill, a 1982 graduate of DePauw University, has joined First Mid-Illinois Bank & Trust as Carbondale Community Bank President and Trust & Wealth Management Officer. "In this role, he will work closely with the lending and deposit teams to help grow overall business within the Southern Illinois Region," according to an announcement.
A communication major at DePauw, Neill went on to earn a J.D. from Drake University Law School. He has more than 30 years of experience in the financial industry and most recently served as a trust officer for TrustBank in Carbondale. He's also been active in his community, serving on several boards, and was appointed by Governor Jim Edgar to serve on the Illinois Student Assistance Commission.

"As a long term resident of Southern Illinois, Michael brings with him a tremendous amount of valuable experience and credentials," says Brad Beesley, executive vice president. "He will be a strong leader and contributor for the First Mid Trust & Wealth Management team."
Read more here.
Back