Jennifer Pope Baker '89 Selects a Favorite from the Banned Books List
September 27, 2015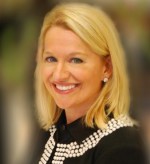 As Banned Books Week begins, the Indianapolis Star "asked some local people (and one national celebrity) what's their favorite book that has been banned, including Jennifer Pope Baker, executive director of Women's Fund of Central Indiana and 1989 graduate of DePauw University.
"I always find favorites on the Banned Books list, and it makes me sad that people are trying to close opportunities for others to learn, grown and expand their minds by taking away challenging, difficult, and interesting books," says Baker, a communication major who serves on DePauw's Board of Visitors. "Khaled Hosseini weaves a magical tale in The Kite Runner that took me to a place and a mindset I could have never imagined. The power of Hosseini's words are incredible; I remember clearly gasping and recoiling as I turned a page following the horrors of this terrific and intense adventure."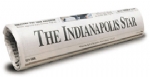 She adds, "I think this book is a great primer for anyone seeking to have empathy for everyday Afghani citizens."
In a sidebar, the Star notes, "Beginning at lunchtime Sunday, DePauw University Dean of Libraries Rick Provine will begin living for a week in a 'prison' of banned books in the window of the Kurt Vonnegut Memorial Library, 340 N. Senate Ave."
Access the piece at IndyStar.com.
Tomorrow has been declared DePauw University/Wabash College Rivalry Night at the Vonnegut Library. DePauw President Brian Casey and Professor Joseph Heithaus will present readings on behalf of DePauw, while Wabash will be represented by its president, Gregory D. Hess, and Professor Marc Hudson. The event begins at 6 p.m. and the public is invited.
The DePauw and Wabash campuses are also competing in a book drive. Individuals may donate books that have been banned (access a list of titles here) at Roy O. West Library​​, Prevo Science Library or the Music Library on campus. The winning campus will be announced at Monday's event.
Learn more in this previous story.
Back