Indianapolis Symphony's Top Brass Share the Stage in Tuesday Recital
September 24, 2015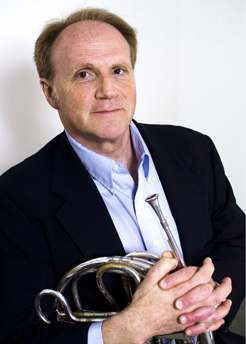 You will leave next Tuesday's recital of 20th-century brass music with your head full of hummable tunes when DePauw University faculty member Robert Danforth (pictured at right), principal horn of the Indianapolis Symphony Orchestra, is joined by his colleague Anthony Kniffen (seen below), the ISO's principal tuba, on a varied program of brass music of classical composers. Their concert, "Melodic 20th-Century Music for Brass," will be presented at 7:30 p.m. on September 29 in Thompson Recital Hall, located within DePauw's Green Center for the Performing Arts.
The program will include music by Shostakovich and Vaughan Williams, Hollywood film composer Bruce Broughton, and popular song composer Alec Wilder, among others.
Although Kniffen, principal tuba of the ISO since 1997, has performed with many of the major American orchestras, including Chicago, Saint Louis, Minnesota, Cincinnati and Detroit, appearing as a soloist with several, he may be best known to aspiring tuba players as the 'play-along' tubist on Hal Leonard's interactive educational project "Essential Elements 2000." Kniffen has toured the U.S. with Summit Brass and also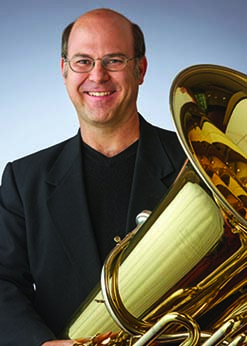 served as sabbatical replacement for his friend and mentor, Dan Perantoni, at his alma mater, Indiana University.
A DePauw School of Music faculty member since 1991, Danforth has performed with the symphony orchestras of Grand Rapids, Toledo, Omaha, Detroit and Cincinnati, in addition to serving as principal horn of the ISO. He has also been a member of the Civic Orchestra of Chicago and was selected as a fellow at the Tanglewood Music Center. Danforth is a graduate of University of Cincinnati, College Conservatory of Music where he studied with Michael Hatfield.
General admission tickets to Tuesday's Faculty Select recital are $5; tickets for seniors, children and all students are free. For more information and online purchases, visit www.depauw.edu/music/tickets. A new automatic ticket kiosk was installed on the first floor of the Green Center this week and is now available for making walk-up ticket purchases at any time of day using a credit or debit card. The venue's box office will also be open beginning one hour prior to the performance.
Back