DePauw Band Presents 'Bach to the Future' Sunday
September 28, 2015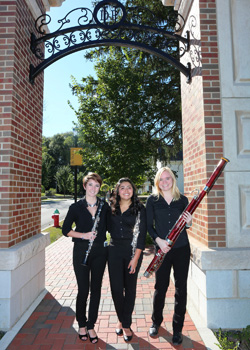 The DePauw University Band, directed by Professor Craig Paré, will present its first concert of the year "Bach to the Future" on Sunday, October 4 -- but at an unusual time. The Sunday matinee in Kresge Auditorium has been scheduled for 1:30 p.m. in order to allow interested audience members who would also enjoy attending the final performance of the musical production of Spamalot to do so at 3 p.m. in Moore Theatre, which is also located on the first floor of the Green Center for the Performing Arts.
In its opening program, the University Band celebrates the great variety and richness that has been the symphonic band's legacy. From transcriptions such as Erik Leidzén's great setting of J. S. Bach's monumental Toccata and Fugue in D Minor, to C. L. Barnhouse's classic "screamer" march, The Battle of Shiloh that pays tribute to the veterans of the Civil War, to rich harmonies of 20th-century composer David Diamond, and further to today's composers -- Eric Whitacre, David Gillingham, Samuel Hazo, and Richard Saucedo -- wind music's history features an array of styles, colors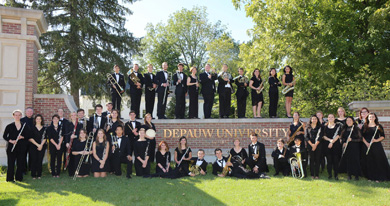 and moods.
The University Band is proud to present this retrospective of exemplary pieces for symphonic band, in addition to a beautiful work for chamber winds, the first movement, Andante sostenuto-Allegro molto moderato, of Émile Bernard's Divertissment, Op. 36.
The band would also like to invite all audience members to bring one or more non-perishable food items for donation to the Putnam County Emergency Food Pantry. Cash donations will also be accepted. Any audience member presenting a food item or donation at the box office will receive a free ticket to the University Band concert.
General admission to Sunday's performance is $3; tickets for seniors, children and all students are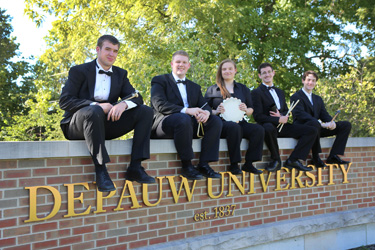 free. For more information and online purchases, visit www.depauw.edu/music/tickets. An automatic ticket kiosk, recently installed on the first floor of the Green Center, is now available for making walk-up ticket purchases at any time of day using a credit or debit card. The venue's box office will also be open beginning one hour prior to the performance.
Back