DePauw Jazz Ensemble to Perform Season Opening Concert on Wednesday
October 3, 2015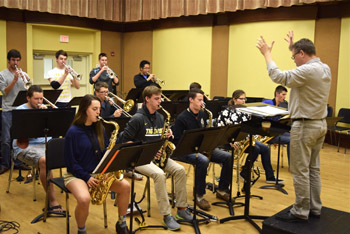 The DePauw Jazz Ensemble, led by conductor Steven Snyder, will present its first performance of the 2015-16 season, "From Classics to Moderns," featuring three works created for big band since 1999, and three composed between 1962 and 1965. Come see what has changed and what has stayed the same when the band performs on Wednesday, October 7, at 7:30 p.m. in Green Center's Kresge Auditorium.
In preparation for this concert, the ensemble will tour northern Indiana on Tuesday, October 6, performing at the Jefferson, Logansport, and Goshen high schools, giving the group ample practice playing in a performance setting for an active, listening audience and the opportunity to lock down the groove as an ensemble before its DePauw season-opener the next day.
According to sophomore tenor saxophonist Aubrey Ault, "We play tunes that pierce the soul." This sentiment can be both heard and felt in Leaving by Richie Beirach, as vocalist Elena Ecudero tugs at the listeners' emotions, and in Hit the Ground Running by Gordon Goodwin, as its funky rhythms and intense brass fill the listener with energy and excitement.
At the core of the band's brass section is senior Matt Skiba, who declares, "I love playing the bass trombone in the jazz ensemble as it rounds out the bottom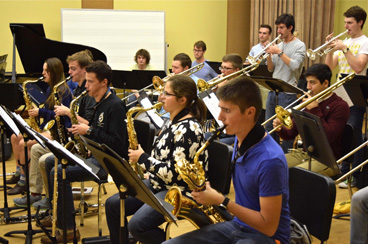 of the ensemble with a punchy, brass sound and helps drive the groove." Those sounds are prevalent in Eric Richards A Firm Grasp of The Obvious, and in several sections of the charts where brass play swinging solos with dense chords, style and taste.
General admission to Wednesday's jazz concert is $3; tickets for seniors, children and all students are free. For more information and online purchases, visit www.depauw.edu/music/tickets. An automatic ticket kiosk, recently installed on the first floor of the Green Center, is now available for making walk-up purchases at any time of day using a credit or debit card. The venue's box office will also be open beginning one hour prior to the performance.
Back