Book Review by Economics Prof. Bert Barreto Published in Choice
October 6, 2015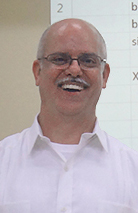 Humberto Barreto, Elizabeth P. Allen Distinguished University Professor of Economics and Management at DePauw University and chair of the department, contributes a review to the October issue of Choice: Current Reviews for Academic Libraries. Barreto gives a "recommended" write-up to F.A. Hayek and the Modern Economy: Economic Organization and Activity. Published by Palgrave Macmillan, the book is edited by Sandra J. Peart and David M. Levy.
Based on papers presented at a 2013 conference at the University of Richmond's Jepson School of Leadership Studies, "The volume situates Hayek's writing as it relates to economic organization and activity, particularly to assess the role Hayek assigns to leaders in determining economic progress," Barreto writes. Although the professor deems the preface and introductory and final chapers to be "too brief" and the papers "uneven in their quality," he notes, "There is no doubt, however, that Hayek's vision on the leadership, institutions, and policies necessary for successful

market economies is worthy of further research and consideration."
In September 2014, Bert Barreto talked with NPR's Morning Edition about the challenges faced by the National Football League. He's also the subject of this recent feature article.
Back