Article Recalls Jimi Hendrix Performance at DePauw, 50 Years Ago This Week
October 7, 2015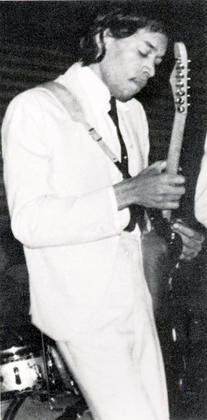 "A Purple Haze didn't exactly envelope Bowman Gym at DePauw University on Oct. 9, 1965, but it was on that Saturday evening that arguably the greatest guitarist of all time graced a small, temporary stage in the old gymnasium," writes Jared Jernagan in the Banner-Graphic. "Friday marks the 50th anniversary of the 1965 Derby Day festivities at DePauw, which concluded with a concert by national recording acts Booker T. & the M.G.'s and the Isley Brothers. But for all the excellent music made by the evening's headliners, a couple of local men remember a then-unknown guitarist who stole the show. A sideman for the the Isleys, James Marshall Hendrix put on a show that night with his one-of-a-kind brand of guitar playing."
The story in the Greencastle newspaper includes remembrances from Rod Kersey and Steve Michael, who were both 16-year-olds and students at Greencastle High School when Jimi Hendrix took the stage at DePauw, 19 months before he released the now-legendary album, Are You Experienced?.
The Isley Brothers were set up on a stage at one end of the gym, with Booker T. at the other, Kersey recalls. "We were interested in both bands, but before the Isleys came out, there was a little four-piece that did a few numbers," which included Hendrix. "He didn't look like himself yet. His hair was straightened and he was wearing a Beatles jacket."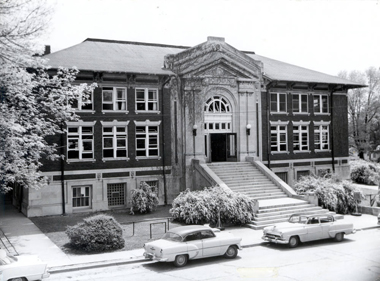 Michael adds, "When I got there I found Rod, who was sitting there watching and I said, 'I can't believe I missed Booker T.' And Rod goes, 'Forget about that. You've gotta get down there and watch this guy playing guitar with the Isley Brothers. Booker T. is great, but the guy playing with the Isley Brothers -- it's unbelievable." (at left: a vintage shot of Bowman Gymnasium, which was razed in 1982)
Hendrix, who again was only a backing musician, left quite a mark on the young music fans. "He did all the playing behind his back and all that stuff," Michael tells the paper. "He was a great guitar player, even then. He had everything going for him."
Kersey adds, "After the Isleys had played, Jimi went down and just watched Steve Cropper," who played guitar for the M.G.'s. "And Cropper was just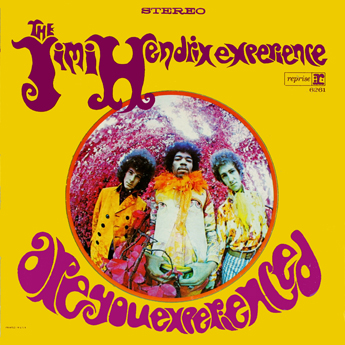 sweating bullets. It was funny to see somebody who was considered one of the best in the world sweating like that because this guy was watching him so close."
Kersey and Michael conversed with Hendrix that night, who, when asked his name, said it was James. "He was very polite and very soft-spoken. I said, 'I'm a guitar player too,' and he said, 'Oh, cool,' or something like that," according to Michael. "I remember when we got the first Hendrix album and later it dawned on everybody that it was the guy we saw."
The story includes a photo of Hendrix playing at DePauw that appeared in the Mirage yearbook, and has a role in the "Monon Memory" from 1965.
It also points out that Randy Albright, a lecturer in the IUPUI School of Music who teaches a course on Hendrix and a graduate of South Putnam High School, wrote an article on the DePauw appearance for the international Jimi Hendrix fan magazine.
You'll find the complete article -- "The night Greencastle experienced Hendrix" -- at the Banner-Graphic's website. A companion story on Bowman Gym can be accessed here.
Also available is this summary.
Back