President Casey Featured in Chronicle of Higher Education
October 12, 2015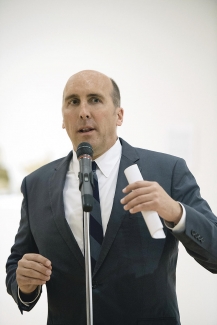 "To stay fit for the challenges of being a college president, Brian W. Casey trains most mornings with the men's and women's swim teams at DePauw University," notes the Chronicle of Higher Education.
"You have to do whatever it takes to recharge your mind," Dr. Casey tells the publication.
The feature by Peter Monaghan notes that "Casey was the 1985 captain of the varsity swim team at the University of Notre Dame, where his specialty was the demanding 200-yard butterfly. He has led DePauw since 2008, and was recently named the next president of Colgate University, to begin in July."
The piece notes, "At DePauw, he has created a strategic plan, directed a major rebuilding program, headed a successful fund-raising campaign, and set up centralized advising for internships, career planning, and graduate-school preparation."
According to Monaghan, "As (Casey) began to progress in academic administration, holding posts at Harvard and Brown Universities, he made a bargain with himself. During his frequent airline trips on college business, he would devote outbound flights to reading university documents, but on return legs keep up with history, modern fiction, architecture and urban planning, and whatever else takes his fancy."

Access the article at the Chronicle's website.
The search for DePauw University's 20th president is under way. The latest update on the process is available here.

Source: Chronicle of Higher Education
Back