The Giving Trees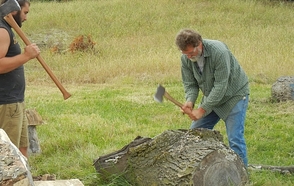 October 10, 2015
A student perspective by Hannah N. Bradley '16.
On a chilly and overcast day, I trudge up and down the fields behind Blackstock Stadium in search of a group of people making benches out of unmillable trees. I almost give up until I hear the squeal of a chainsaw and pray whoever is using it knows what they are doing.
Back behind a wall of odd lumber and branches, 10 people are hard at work on sections of trees cut from the site of the new Hoover Hall, now destined to become benches for DePauw's campus and Nature Park.
The call for the creative use of these trees from Professor of Biology Dana Dudle was quickly supported and brought to fruition by many others around campus. Vice President for Student Life Christopher Wells donated the money for milling. Registrar of University Exhibitions Christie Anderson and Director and Curator of University Exhibitions Craig Hadley oversaw the cataloging and storage of lumber. Grounds Superintendent David Grimes cut rounds for use in the biology classes, while Professor of Art and Art History Lori Miles' studio classes used parts of the trees for small sculpture pieces. Jacob Stanley '05, an art professor at Lindenwood University, brought his students to join forces.
Jerry Bates, a studio manager in the Peeler Art Center, facilitated the tree bench section of the project. Bates had read an article about a tree bench project at Indiana University of Pennsylvania and realized that unusable sections of the trees from the construction site could be made into practical sculpture for our campus.
The felled trees carry history and the nails and metal pins of long ago advertisements that make it unreasonable to lumber sections of them into boards. In the same way, the most interesting sections of the tree were kept for this project in part because their twisting and random branches make the grain too complicated for milling. Each tree section was different, and therefore each bench will be different: one bench was a simple long board with peg legs, while others kept their tree-shape more distinctly. The axe-wielding artists were very conscious of how people might interact and use the benches and took to trying them out during breaks from their work.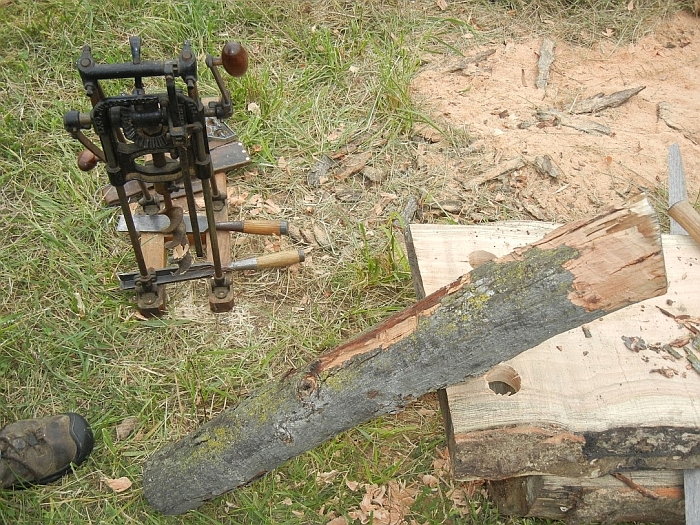 At first I was intimidated by the apparent skill and artistry of all the students and staff with their sharp tools. But everyone was welcoming and positive, even when they split a board that had taken hours to smooth. I imagine the experience of swinging an axe, rotating a drill press or using a chisel and mallet would benefit most DePauw students.
Bates' best memory of the whole process: "Out in the wind on cold day, helping Zachary Jonas ['16] create a lounge chair out of solid beech."
Back