DePauw Faculty Woodwind Ensemble Performs Tuesday
October 24, 2015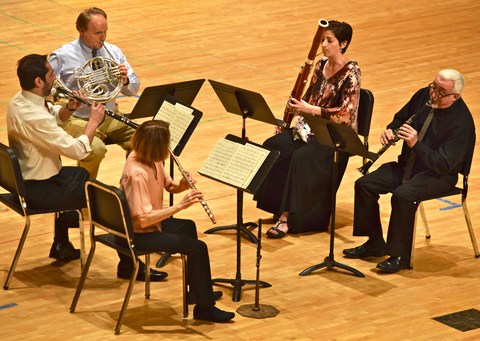 Nothing less than a 20th-century sonic adventure is in store for listeners when they join the DePauw Faculty Woodwind Ensemble -- Anne Reynolds (flute), Leonid Sirotkin (oboe), Randy Salman (clarinet), Kara Stolle (bassoon) and Rob Danforth (horn) -- for its fall Faculty Select recital at 7:30 p.m. on Tuesday, October 27, in the Green Center's Thompson Recital Hall.
Included on the program is an eclectic series of quintets beginning with American composer Gunther Schuller's snazzy jazz-inspired Suite for Woodwind Quintet; from across the Atlantic, Malcolm Arnold's rollicking play on British sea shanties, Three Shanties for Woodwind Quintet; and Hungarian composer Frigyes Hidas's Woodwind Quintet No. 2, a clever synthesis of counterpoint, classical, jazz and Hungarian folk idioms. Despite the inner complexity, all three works are generally light in character and provide as much fun for the listener as for the players.
"Suite for Woodwind Quintet, first published by Schuller in 1945, is a wonderful combination of classical and jazz techniques," notes the ensemble's oboist Leonid Sirotkin (seen talking with students in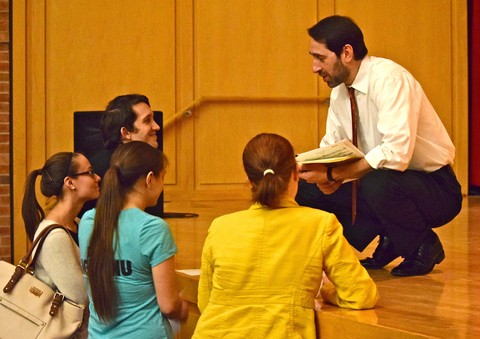 photo at left). "This work represents perfectly the term 'Third Stream,' the main concept behind the Jazz and Classical Music Society, the organization founded by Schuller and John Lewis in 1955. The jazz idiom is masterfully built into the classical form through incorporation of rhythmic syncopation, characteristic dissonances and harmonic progressions."
Arnold wrote his high-seas inspired quintet in 1943. The energetic themes and racy rhythms of its first and third movements frame a charming and sensitively scored inner Allegretto semplice movement with the drunken sailor in the first movement brilliantly portrayed in various stages of intoxication -- chasing his pigtails in a canon, developing hiccups, finding himself in a state of remorse on the shores of South America and dancing the tango to a minor key -- but eventually pulling himself together and reporting for duty, presto ben marcato.
"The pensive, almost lullaby-like narrative quality of the second movement provides a wonderful contrast to the exciting and vivacious outer movements," Sirotkin continues. "The last shanty, based on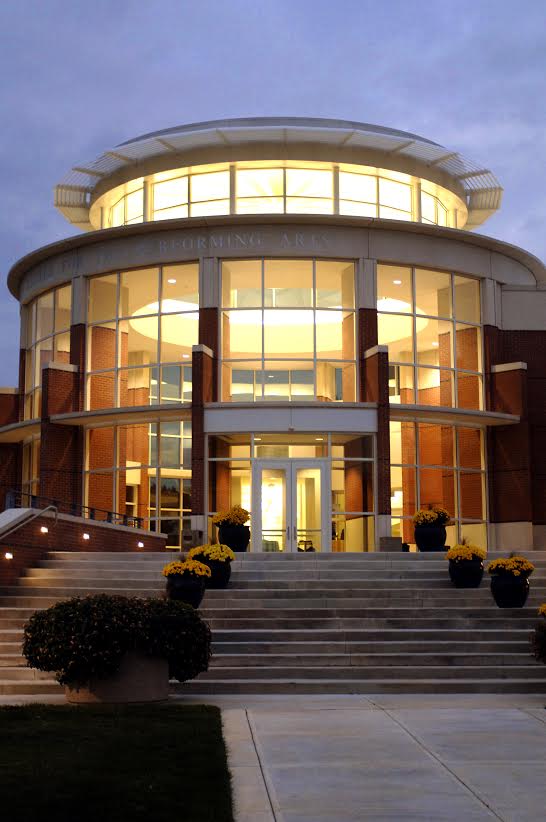 'Johnny Come Down to Hilo' (Ho Yo! Blow the Man Down), is bursting with humor and boisterousness with brightly colored writing throughout."
Perhaps the most complex work of the three is the Woodwind Quintet No. 2. "Hidas's use of Hungarian folk idioms makes the character of this piece absolutely unique," adds Sirotkin, "incorporating a number of jazz techniques that toy with the extreme rhythm changes, syncopations and quasi-improvisations."
General admission tickets to Tuesday's Faculty Select recital are $5; tickets for seniors, children and all students are free. For more information and online purchases, visit www.depauw.edu/music/tickets. An automatic ticket kiosk now located on the first floor of the Green Center is available for making walk-up ticket purchases at any time of day using a credit or debit card. The venue's box office will also be open beginning one hour prior to the performance.
Back