"Common Humanity" Inspires Curriculum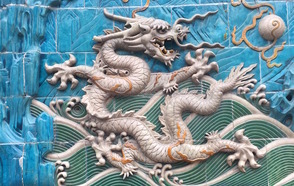 October 27, 2015
Reflecting the emphasis at DePauw on liberal arts and diverse experiences, five faculty members embarked on a two-part immersion and exploration of China during the past two years. The experience was something like the big brother of Winter Term trips available to students at DePauw.
Meryl Altman, professor of English, and Kevin E. Moore, professor of psychology, spent two weeks in Hawaii last year participating in workshops about China's history, religion, art and society before taking a trip to experience the country itself. Two other professors – Clarissa L. Peterson, professor of political science, and Matthew J. Hertenstein, associate professor of psychology – joined the group later. Sherry J. Mou, associate professor of modern languages (Chinese), organized and led the group to China – selecting destinations, arranging transportation and lodging, organizing orientation sessions and acting as translator.
Their goals were to bring this knowledge into their classrooms, research and personal interests. In coming years, the new perspectives and knowledge from these trips will continue to enrich classrooms all over DePauw. Retracing the steps of famous authors, drawing from political and artistic history, and reimagining the past are only a few of the inspirations derived from a deeper look into China.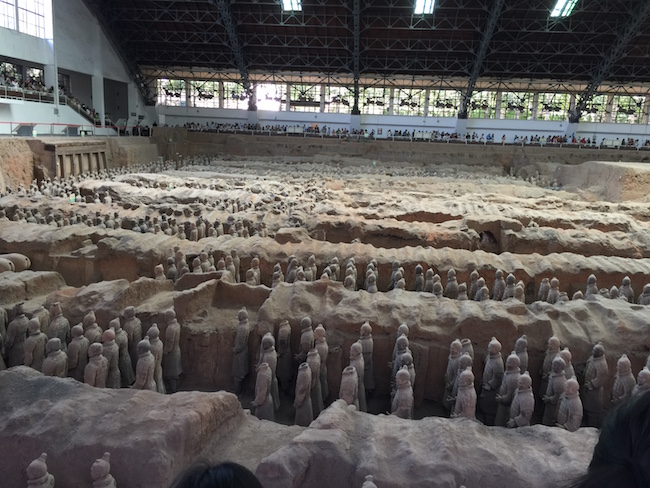 On their two-week trip to China in June 2015, faculty members visited historical sites, including the terra cotta army of Emperor Qin Shi Huang, as well as monuments from the three main religious traditions in China: Buddhism, Confucianism and Daoism. At one point, looking across the city Xi'an from an elevated perch, they could see the layers of history represented through architecture; in the foreground were the oldest city buildings, followed by Communist offices, and far away in the distance were the skyscrapers and modern silhouettes.
Professor Moore was particularly struck by the friendliness he encountered everywhere he went, as the locals treated him almost like a minor celebrity by taking his picture and talking to him whenever possible. Faculty members immersed themselves further in the culture by going to see traditional plays and tea shows. Although Professor Moore reveled in all the fascinating differences, he was also reminded of "the wonderful nature of common humanity."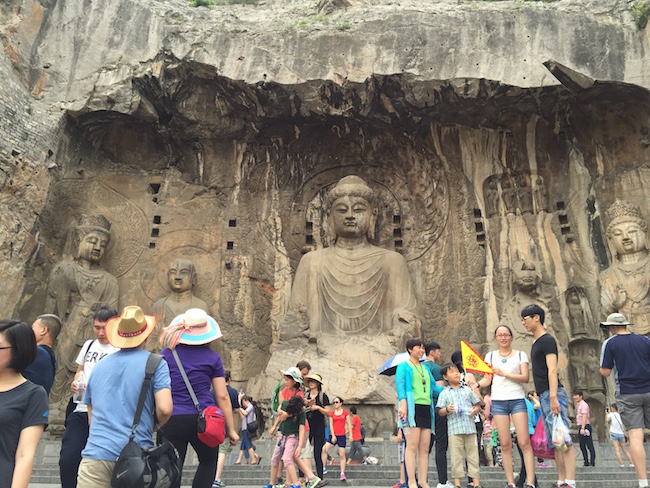 This opportunity enables faculty and staff members to bring a greater perspective on the world into their classrooms, and Professor Moore expects his teaching to be changed forever. Not only does he have new information to bring into all of his classes, but he also delved deeper into his psychology research interests in son/daughter preferences and constructs of personality. Craig R. Hadley, director and curator of exhibitions and University collections, who went to China on a previous trip, was inspired to schedule an exhibition, "The Red Sun in Our Hearts," in spring 2016, which focuses on the Socialist Realism art movement.
Professor Mou is working to develop a teaching game that recreates an event in Chinese history and allows students to play roles in that event. Professor of English Meryl Altman, a scholar of Simone de Beauvoir who is writing a book about the French writer, was able to visit many of the sites that inspired de Beauvoir's The Long March.
The faculty development experiences are made possible through a Mellon Grant to expand Asian Studies, part of a collaborative effort between DePauw and Wabash College. Read more about the grant from the Andrew W. Mellon Foundation in this previous story.
Back