2015 Monon Bell DVD at Replicator, Will Ship Soon
November 20, 2015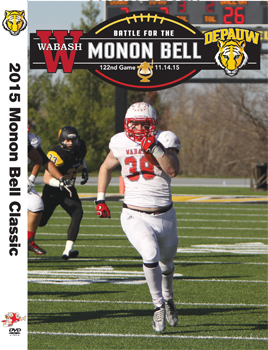 The commemorative DVD of the 2015 Monon Bell Classic, played six days ago at Blackstock Stadium, is now at the factory and is being replicated in limited quantities for fans of the annual football game between DePauw University and Wabash College.
The discs are available for $15 each and will ship when they arrive from Oasis Disc Manufacturing in about two weeks. An online order form is available here.
The DVD's nearly five hours of content includes Saturday's AXS TV telecast of the 122nd game in the storied rivalry, presented in widescreen and enhanced for 16x9 televisions. The disc also contains photo galleries of this year's clash between the Tigers and Little Giants; media coverage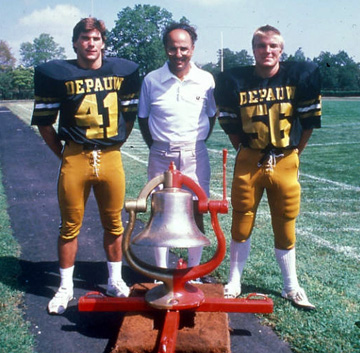 of the battle for the Bell; a collection of hundreds of historic images dating back to the rivalry's early days; highlights from the DePauw and Wabash 2015 seasons; game film of the 1981 game (the first Monon Bell contest coached by Nick Mourouzis) married with WGRE audio from that afternoon; "Monon Memories" for the games from 1895, 1905, 1915, 1925, 1935, 1945, 1965, 1975, 1983, 1985, 1995, 2004, 2005 and 2014; a pregame report from the 100th game in 1993; and the music video of the popular Ballad of the Monon Bell.

[Download Audio: "Ballad of the Monon Bell - Stereo" - 2514kb]. (at left: Nick Mourouzis and his 1984 co-captains, Rich Bonaccorsi and Andrew King)
Only 300 copies of the DVD will be manufactured; each college will have 150 to distribute.
This is the 20th contest in the historic series to be captured on DVD. Also available are the DVDs of the 1977, 1984, 1993, 1994 and 2000-14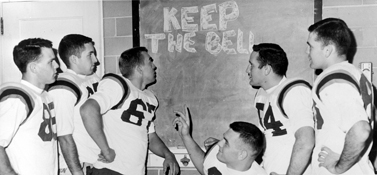 Monon Bell Classics (supplies of past games are extremely limited with the 2004 and 2006 discs sold out; the 2008 package is a two-disc set including all 115 "Monon Memories" produced to that date).
All of the discs may be ordered here.
DePauw and Wabash first met on the gridiron in 1890. In 1932, a locomotive bell from the a locomotive bell donated by the Chicago, Indianapolis and Louisville Railroad Company, also known as the Monon Line, was donated and became the winner's trophy each year.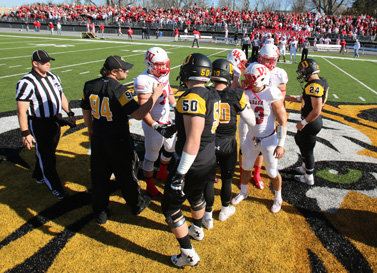 In the all-time series, Wabash holds a 60-53-9 advantage. Since the Monon Bell entered the rivalry in 1932, Wabash leads, 41-37-6.
The Monon Bell was voted Indiana's best college sports rivalry by fans of ESPN, and is noted in the DVD collection, ESPNU Honor Roll: The Best of College Football, as one of the nation's best annual clashes. The Monon Bell was featured on CBS' Sunday Morning and has twice been spotlighted in Sports Illustrated.
All 122 games to date are commemorated in video vignettes known as "Monon Memories." Created by Ken Owen '82, executive director of media relations at DePauw, the clips can be found here and on YouTube.
Access DePauw's Monon Bell Web page here.
Back