Reparation Wins Best Film Award at Santa Fe Festival
December 11, 2015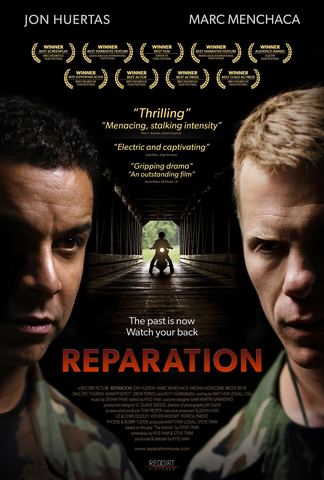 Reparation, a film directed by 1994 DePauw University graduate Kyle Ham and adapted from a play by professor of communication and theatre Steve Timm, "closed 2015 by winning the Best Film Award at the Dec. 2-6 Santa Fe Film Festival in New Mexico this past weekend," reports the Banner-Graphic of Greencastle. "After competing against prestigious films like Charlie Kaufman's Anomalisa, Asif Kapadia's Amy (the Amy Winehouse documentary) and Ovation, Henry Jaglom's new film, Reparationdirector Kyle Ham accepted the top honor during Sunday night's closing ceremony in Santa Fe."
The Greencastle newspaper adds, "Written by DePauw University Professor Steve Timm and Ham (DePauw Class of 1994), Reparation was filmed entirely in Putnam County during the summer of 2014."
The film has collected nine awards at eight film festivals this year. They include honors for Best Screenplay, Breckenridge Film Festival; Audience Award Winner, Austin Film Festival; and Best Narrative Feature at both the River's Edge International Film Festival and the Julien Dubuque International Film Festival.
"The producers are currently working with The Little Film Co. in Los Angeles to secure distribution for the film, which looks to release in 2016 ... During filming in Putnam County nearly 500 residents, including patrons at the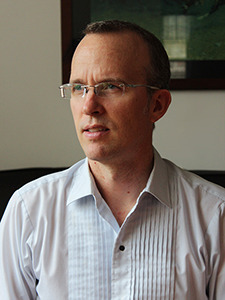 Greencastle Farmers Market, participated in the making of Reparation as extras, caterers, drivers, crew and costume assistants.
"People opened their businesses and their homes to us," Professor Timm notes. "They offered up their time, talents and energy to make this film."
Ham (pictured at left) adds, "We consider this film to be community-made in the truest since. Reparation simply wouldn't have been realized without the creativity, hard work and enthusiasm of the people of Putnam County and DePauw University."
Access the complete story at the paper's website.
An Indianapolis television station covered the making of the film in the summer of 2014. A segment is embedded below.
Back