DePauw Mourns the Passing of Record-Setting Baseball Coach Ed Meyer '62
December 30, 2015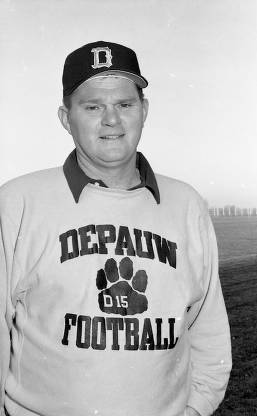 Edward H. Meyer Jr., a 1962 graduate of DePauw University who was head baseball coach for 35 years and logged a Tiger-record 522 career wins while positively impacting several generations of student-athletes, died tonight in Greencastle. The emeritus professor of kinesiology was 75 years old.
Born June 9, 1940, in Berwyn, Illinois, Ed Meyer transferred to DePauw in 1960 after attending Iowa State University and Lyons Township Junior College. Meyer lettered in both football and baseball at DePauw and majored in physical education. He was the 1960 total offense leader, passing leader and punting leader in football. He also served as co-captain of both teams. During his senior year, Meyer was the recipient of the Fred C. Tucker Memorial Award for Leadership in Athletics.
As quarterback of the Tiger football team, he led the squad to two victories over Wabash College. In 2010, he provided narration for the film of the 1961 rivalry game, which is embedded below.
Meyer went on to earn a master's degree from Indiana University.
He began his long and memorable coaching career at DePauw in 1964, serving as associate professor of health, physical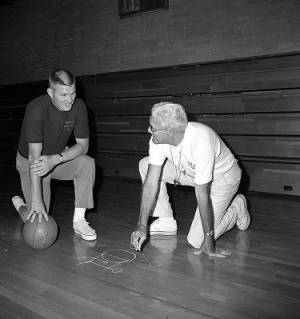 education and recreation as well as head baseball coach and assistant football coach.
Meyer led the baseball program for 35 years and earned 1990, 1994 and 1997 Indiana Collegiate Athletic Conference Coach of the Year honors. His 1990 squad finished second in the conference, while the 1994 team tied for the regular season title and won the ICAC tournament. The 1997 team won the regular season title and finished 25-15 overall. (at left: Meyer with legendary DePauw basketball coach Elmer McCall in Bowman Gym in 1968)
Meyer also served as an assistant football and basketball coach at DePauw. Last month, he received the Spirit of the Monon Bell award.
"Ed loved all things DePauw, and was a Tiger to his very core," according to Nick Mourouzis, head football coach at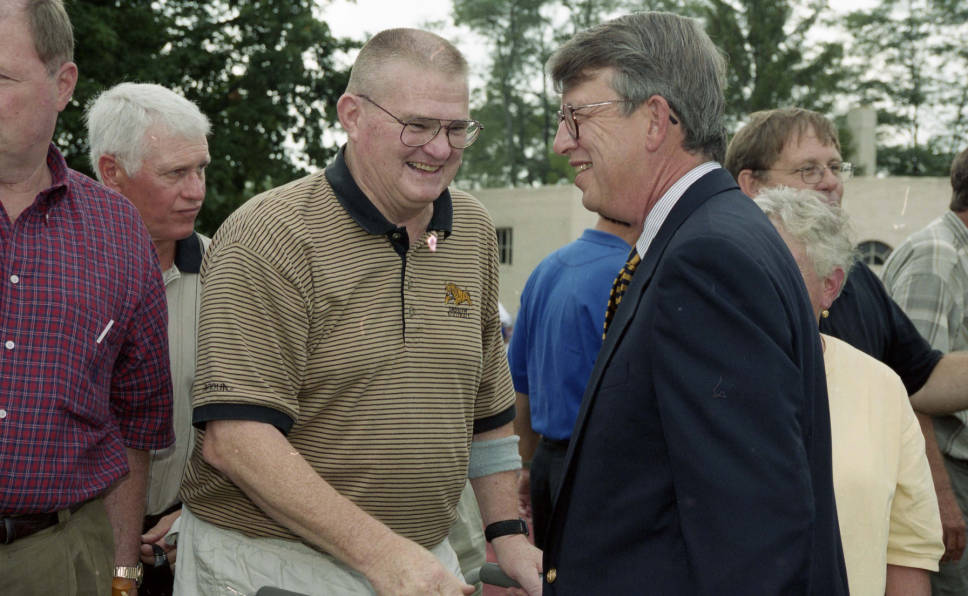 the University from 1981 to 2003 and a longtime friend of Coach Meyer. "He touched a great many lives at DePauw and in Greencastle over the years and is someone who is both loved and respected. It's a sad day for those who proudly wear the black and gold. We send our deepest sympathies and warmest thoughts to Ed's terrific family."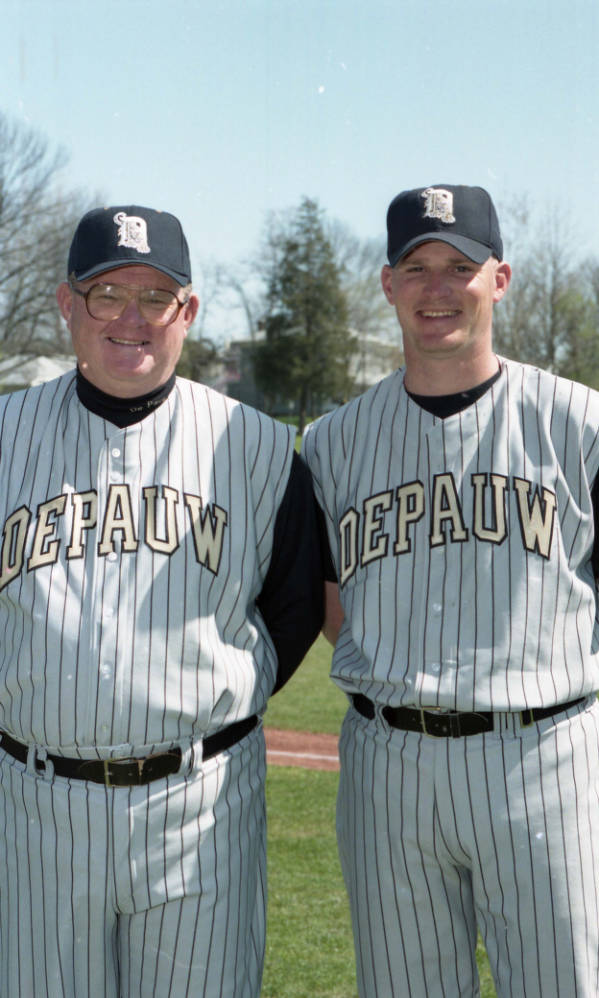 (at right: Meyer is greeted by President Robert G. Bottoms at a September 2000 event honoring the coach)
The coach's wife, Mary Ann (Armer '61) Meyer, passed away earlier this year. Survivors include his brother Tim '82; and sons Mike, who earned a master's degree from DePauw in 1987; Patrick, a 1989 DePauw graduate; and Tony, who assisted his father as DePauw's baseball coach (Ed and Tony Meyer are seen in 1997 photo at left).
Services for Ed Meyer will take place Saturday, January 16, at 10 a.m. at St. Paul the Apostle Catholic Church, 202 E. Washington Street, Greencastle, with visitation beginning at 9 a.m. A reception will follow the service.
Back