"Economies of Scale" are Driving Media Consolidation: Prof. Jeff McCall '76
January 9, 2016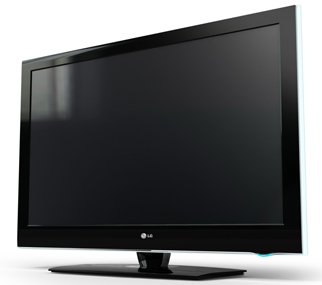 "Media General, parent company of WTHI-TV, has agreed to be acquired by Nexstar Broadcasting Inc., parent company of NBC affiliate WTWO-TV, but the deal remains in a standoff," writes Howard Greninger in today's Terre Haute Tribune-Star. Complicating matters is a previous bid by Meredith Corporation. The story includes analysis from Jeffrey M. McCall, professor of communication at DePauw University.
The potential of a market's only TV stations being controlled by a single company "is an interesting situation, but we are in an era where big media wants to consistently get bigger to protect against the instability of local television markets," says Dr. McCall, author of the book Viewer Discretion Advised: Taking Control of Mass Media Influences. "They are looking at economies of scale, and there will be a time when the mom and pop media corporations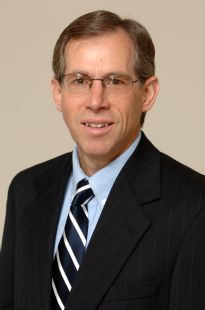 disappear all together."
The professor adds, "My concern is getting too big means they are less able to deal with properties in any one market. That is not to say a bigger company would not pay attention to small markets, but when you have too many properties, the bottom line gets in the way of looking at individual markets."
The story is available to subscribers at the newspaper's website.
A former journalist and 1976 graduate of DePauw, Jeff McCall authored the book Viewer Discretion Advised: Taking Control of Mass Media Influences. He serves as faculty adviser to student radio station WGRE, where he worked as an undergraduate.
The professor is frequently called upon for comment on media matters and has been cited in more than 100 newspapers. He recently discussed the Bill Cosby case with the Los Angeles Times and talked with HLN about the impact of the 'Star Wars' franchise and authored an opinion column examining media coverage of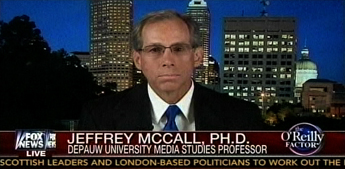 Donald Trump's presidential campaign which appeared in newspapers across the nation. Dr. McCall was also quoted in a November 2014 Times story on the Cosby case.
The professor moderated the March 30, 2015 Ubben Lecture featuring the 44th Vice President of the United States, Dan Quayle '69.
Source: Terre Haute (Ind.) Tribune-Star
Back