Two Art Professors Honored at Wabash Valley Exhibition
March 4, 1973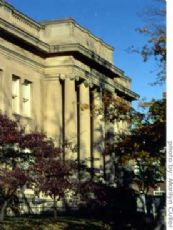 Two members of the DePauw University art faculty won awards at today's opening ceremonies of the Wabash Valley Exhibition.
Raymond French, who chairs DePauw's art department, received the Smith-Alsop Paint and Varnish Company purchase prize. Bing Davis, faculty member, won the Indiana State University purchase prize.
The event was sponsored by the Sheldon Swope Art Gallery in Terre Haute. A total of 25 awards were presented.
Back