Adrienne Westenfeld '15 Tells of How Her DePauw Internship Led to a Job at Town & Country
January 25, 2016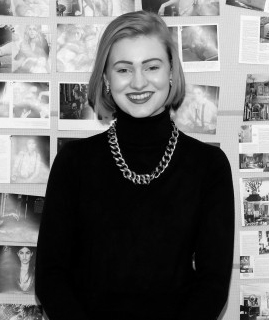 Adrienne Westenfeld, assistant to the editor-in-chief at Town & Country magazine, Jay Fielden, and 2015 graduate of DePauw University, is profiled by Fashion Week Daily.
"I was studying creative writing at DePauw University," she tells the publication, "and I interned at T&C my junior year. I used to sit by the door, which meant I was letting people in all the time. [laughs] About two weeks before I graduated, I got an email from Hearst HR telling me that Jay needed a new assistant. The day I was supposed to present my thesis I came to New York to interview with Jay."
When asked how she got to know Fielden, Westenfeld recalls, "We used to do this series called the T&C Family Album, where we would pull something from the archives -- it could date all the way back to 1870 -- and spotlight it on the site. I found an issue where we had some pieces by [French writer] Antoine de Saint-Exupéry. The Morgan Museum was running an exhibit with his manuscripts at the time. I wrote about his life, and Jay came to my desk and told me he liked it. The editor I worked with was like, This is a big deal…"

Access the complete article at the publication's website.
Adrienne Westenfeld was an English (writing) major and Media Fellow at DePauw, and minored in media studies and French. While on campus she was editor-in-chief of the literary magazine, A Midwestern Review, and wrote columns for The DePauw, including one that received an Indiana Collegiate Press Association award in 2013.
Back