Former US Education Secretary Arne Duncan Coming to DePauw for April 21 Ubben Lecture
February 29, 2016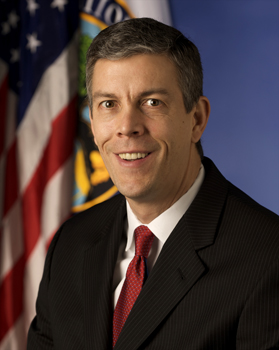 Arne Duncan -- the second longest-serving member of the Obama administration and described by Valerie Strauss of the Washington Post as "the most powerful federal education chief in the department's history" -- is coming to DePauw University. Duncan, who served as U.S. Secretary of Education from January 20, 2009 (the day Barack Obama was inaugurated) through the end of 2015, will deliver a Timothy and Sharon Ubben Lecture on Thursday, April 21, in Kresge Auditorium, located within DePauw's Green Center for the Performing Arts (605 S. College Avenue).
Duncan's 7:30 p.m. speech will be followed by a question-and-answer session. Like all Ubben Lectures, the event is presented free of admission charge and is open to everyone.
Born and raised in Chicago, Duncan's late father was a professor at the University of Chicago and his mother has run a South Side tutoring program for inner-city children since 1961. As a student in Chicago, Duncan spent afternoons in his mother's tutoring program and also worked there during a year off from college. He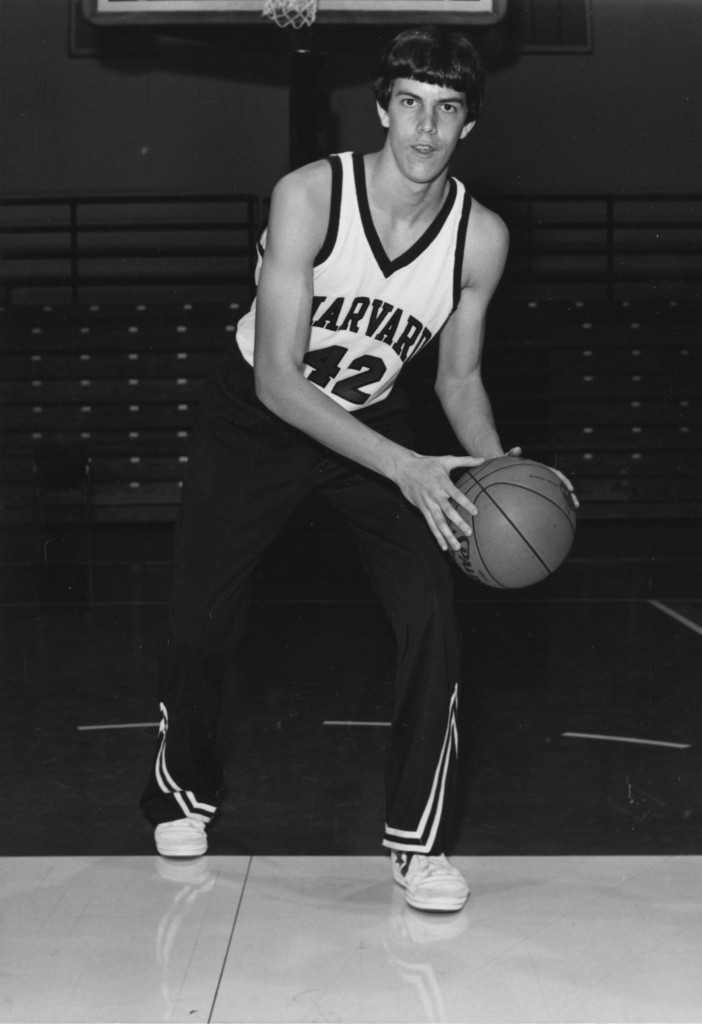 credits this experience with shaping his understanding of the challenges of urban education.
Duncan attended the University of Chicago Laboratory Schools and later Harvard University, where he graduated magna cum laude in 1987 with a bachelor's degree in sociology. His senior thesis, for which he took a year's leave to do research in Chicago's Kenwood neighborhood, was titled "The values, aspirations and opportunities of the urban underclass." (at left: Duncan as a member of Harvard's men's basketball team)
Beginning in 1992, Duncan ran Ariel Education Initiative, a non-profit education foundation which helped fund a college education for a class of inner-city children under the I Have A Dream program. He was part of a team that later started a new public elementary school built around a financial literacy curriculum, the Ariel Community Academy, which today ranks among the top elementary schools in Chicago.
In 1999, Duncan was appointed deputy chief of staff to the head of Chicago Public Schools, then two years later was tabbed by Mayor Richard M. Daley to lead the city's school system. Duncan held the post for seven-and-a-half years, becoming the longest-serving big-city education superintendent in the United States. (at right: 2002 photo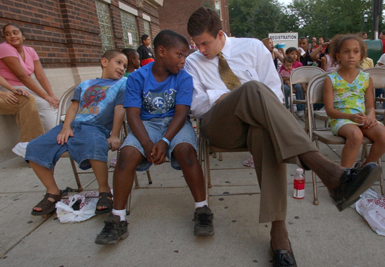 by John Lee/Chicago Tribune)
As CEO, Duncan united education reformers, teachers, principals and business stakeholders behind an aggressive education reform agenda that included opening over 100 new schools, expanding after-school and summer learning programs, closing down underperforming schools, increasing early childhood and college access, dramatically boosting the caliber of teachers, and building public-private partnerships around a variety of education initiatives. Under his leadership, an all-time high of 66.7 percent of the district's elementary school students met or exceeded state reading standards, and their math scores also reached a record high, with 70.6 percent meeting or exceeding the state's standards. At high schools, Chicago Public School students posted gains on the ACT at three times the rate of national gains and nearly twice that of the state's. Also, the number of CPS high school students taking Advanced Placement courses tripled and the number of students passing AP classes more than doubled. Duncan has increased graduation rates and boosted the total number of college scholarships secured by CPS students to $157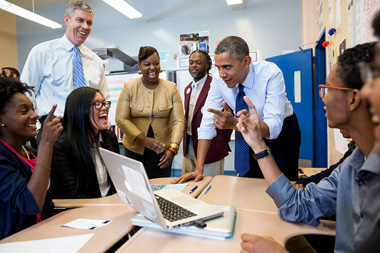 million. (White House photos at left and below by Pete Souza)
Duncan was nominated to be secretary of education by President-elect Barack Obama and was confirmed by the U.S. Senate on Inauguration Day, Jan. 20, 2009. Calling him "arguably one of the most powerful education secretaries in history," the New York Times noted that Duncan "was at times the subject of criticism from both parties, angering Democrats by challenging teachers' unions and infuriating Republicans by promoting national academic standards."
He worked "to induce states to adopt landmark changes that none of his predecessors attempted -- policies such as teacher evaluations and higher academic standards," noted the Washington Post in October 2015, as Duncan announced he would be leaving his post at year's end. "Duncan tried to straddle the deep national divide about the best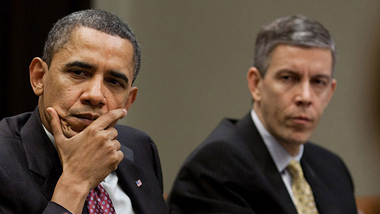 way to improve public education, working between those who believe that competition, accountability and market forces are the best route and others who argue for heavier investment to address the many needs of poor children who increasingly fill public schools," reported Juliet Eilperin, Lyndsey Layton and Emma Brown.
"To Duncan, that has meant a rapid expansion of public charter schools, promoting a national set of K-12 academic benchmarks known as the Common Core State Standards in math and reading, holding teachers accountable for student progress as measured in part by test scores; enrolling more low-income children in preschool; and advocating investment in 'wraparound services' such as medical care, mentoring and family services."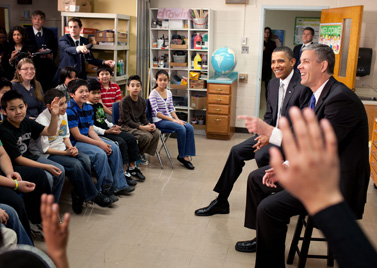 As he announced Duncan's resignation, President Obama declared, "He's done more to bring our educational system, sometimes kicking and screaming, into the 21st century than anyone else. America will be better off for what he has done."
In an April 2015 interview with the Education Writers Association, Duncan expressed regret that "education isn't seen as a national priority." He added, "The stakes today are so high ... Education has to be the great equalizer, it has to be the tool that helps increase social mobility."
A sociology major as an undergraduate, Duncan was co-captain of Harvard's basketball team and was named a first team Academic All-American. From 1987 to 1991, Duncan played professional basketball in Australia, where he also worked with children who were wards of the state. He credits basketball with his team-oriented and highly disciplined work ethic.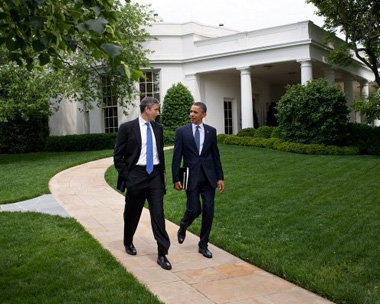 Arne Duncan has been honored with the Niagara Foundation's Education Award and the National Foundation for Teaching Entrepreneurship Enterprising Educator Award and was recognized by the Civic Federation of Chicago and the Anti-Defamation League. In 2006, the City Club of Chicago named him Citizen of the Year. He's been awarded three honorary doctorates.
Duncan formerly served on the boards of the Ariel Education Initiative, Chicago Cares, the Children's Center, the Golden Apple Foundation, the Illinois Council Against Handgun Violence, Jobs for America's Graduates, Junior Achievement, the Dean's Advisory Board of the Kellogg School of Management, the National Association of Basketball Coaches' Foundation, Renaissance Schools Fund, Scholarship Chicago and the South Side YMCA. He also served on the Board of Overseers for Harvard College and the Visiting Committees for Harvard University's Graduate School of Education and the University of Chicago's School of Social Service Administration.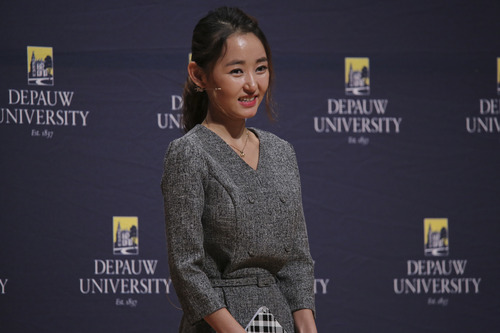 Established in 1986 through the generous support of 1958 DePauw graduates Timothy H. and Sharon Williams Ubben, the Ubben Lecture Series was designed to "bring the world to Greencastle" and has now presented 103 programs.
North Korean defector, human rights activist and author Yeonmi Park (seen at left) delivered the academic year's first Ubben Lecture on October 5. Douglas Hallward-Driemeier, the attorney and 1989 DePauw University graduate whose arguments helped persuade the U.S. Supreme Court to rule in favor of same-sex marriage last summer, returned to his alma mater on October 26.
Previous Ubben Lecturers have included Mikhail Gorbachev, Margaret Thatcher, Bill Clinton, Peyton Manning, Tony Blair, Benazir Bhutto, Elie Wiesel, Jane Goodall, General Colin Powell, Shimon Peres, Martin Luther King III, Willy Brandt, Jimmy Kimmel, Dan Quayle '69, F.W. de Klerk, Spike Lee, David Brooks, Lee Hamilton '52, Ralph Nader, Mike Krzyzewski, Bret Baier '92, John Major, Jimmy Wales, Ron Paul, Andrew Luck, Michio Kaku, Piper Kerman, Ken Burns, Oscar Arias, Barbara Bush, Ambassador L. Paul Bremer, Todd Rundgren, General Wesley Clark, Bob Woodward, Greg Mortenson, Naomi Wolf, William J. Bennett, Ross Perot,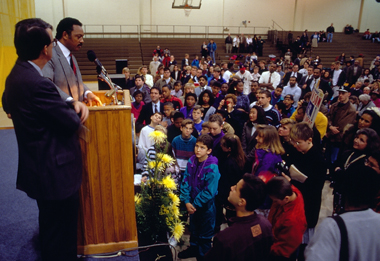 Karl Rove, Howard Dean, Doris Kearns Goodwin, Eric Schlosser, Harry Belafonte, Leymah Gbowee, Sam Donaldson, David McCullough, Carl Bernstein, Jane Pauley, David Gergen, Mitch Albom, Julian Bond, Brian Mulroney, Jim Alling '83, David S. Broder, Candy Crowley, Liz Murray, Lester Thurow, Jason Reitman, Richard Lamm, Jim Lovell, ice cream entrepreneurs Ben Cohen & Jerry Greenfield, Sister Helen Prejean, Bill Bradley, Ferid Murad '58, David Ho, Allen Neuharth, Andrew Young, Paul Volcker, Tom Wicker, Paul Tsongas, Gwen Ifill, Nicholas Carr, Rebecca Skloot, Mary Frances Berry, Zbigniew Brzezinski, George Will, Carl Rowan and many others. (at right: Rev. Jesse Jackson speaks at DePauw on December 3, 1992)
To view a complete roster of Ubben Lecturers -- which includes links to video clips and news stories -- click here. Video montages of many events are available on YouTube.
Back