As Teach For America Turns 25, CEO Elisa Villanueva Beard '98 Talks with NPR
February 8, 2016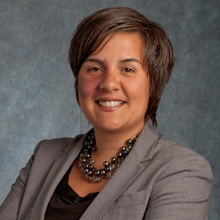 "An important milestone in American education has been reached this year. Teach for America turns 25," notes NPR. The network marked the milestone by interviewing Elisa Villanueva Beard, CEO of the organization and 1998 graduate of DePauw University, as she attended the 25th anniversary Teach for America Summit in Washington, D.C.
"I grew up in South Texas in the Rio Grande Valley, right on the Mexican border," she says. "I ended up going to school in rural Midwest America at DePauw University. And when I got to DePauw, I realized how actually underprepared I was for college. And when I learned about Teach for America in my sophomore year, I just thought I want to be a part of a team of people who care so deeply and are just going to do whatever it's going to take to deliver for our kids."
A sociology major at DePauw, Elisa Villanueva Beard joined the TFA corps after graduation and taught first and second grade bilingual education in Phoenix. She joined TFA's staff in 2001 to lead the organization's work in her hometown in the position of executive director. Four years later, she stepped into the national role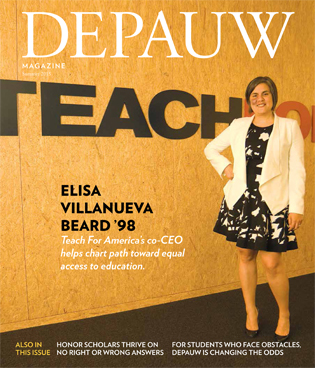 of chief operating officer, leading Teach For America's field operations. She was named to the top post in 2013.
"We have been part of the solution without question," she states. "This is a massive systemic issue. And that's the way we see it, right? And it's going to take incredible leadership at the very least to ensure we're working in education and outside of education. That is our role, and what we do is we bring, you know, the future leaders of this country to come to understand this issue early on in their careers so they can commit to it."
Hear the interview at National Public Radio's website.
Villanueva Beard delivered DePauw's commencement address (embedded below) in May 2013.
Source: NPR
Back