Fighting Cancer on the Molecular Level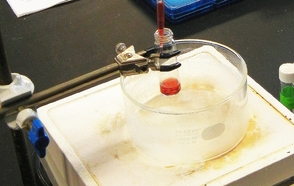 February 23, 2016
Practically everyone knows someone whose life has been touched by the devastating effects of cancer, and new treatments are constantly required. While big drug companies and research universities might focus on this effort, faculty and students in DePauw's Department of Chemistry and Biochemistry are taking on the disease at the molecular level.
Daniel Scott, assistant professor of chemistry and biochemistry, and six students are working to improve therapeutic treatment options for cancers. "The project consists of two parts," Scott says. "We are working to develop new molecules that will target specific cells and then build a delivery system using nanoparticles to further target the disease."
Scott believes they have some modified drugs that are ready to test against cancer cells to determine whether they can "kill more cancer cells with less drug." They also plan to collaborate with animal studies being conducted at the University of Kentucky pharmacology department and researchers in Indiana University's synthetic chemistry department who can further modify the molecules.
The goal is to kill cancer cells more effectively and alleviate side effects of current treatments. "Prevailing treatments, such as chemotherapy, are too strong and damaging, so patients are limited in how much therapy they can withstand. This is due, in part, to the fact that many current drugs do not differentiate well between normal and disease cells," Scott explains.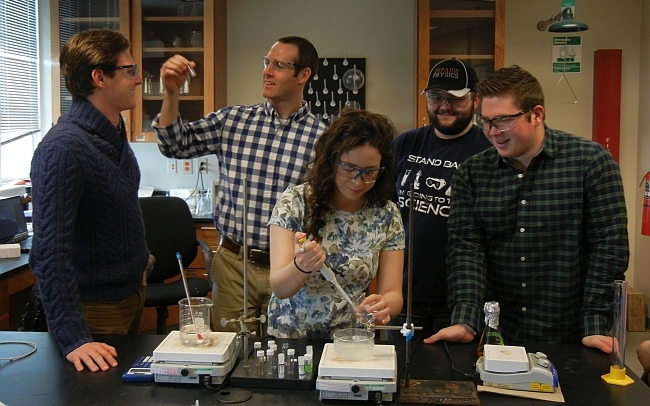 Using a bacteria originally found in soil that produces a modified anti-cancer drug, Scott and his students can manually manipulate it to target specific cells. "Once the drug is formatted to attack one kind of cancer cell instead of the patient's entire system, doctors can administer more of the drug to ensure the cancer is destroyed without worrying about the side effects. Nanoparticles will also be used because they can be specialized for where they go and when they release drugs," Scott says.
Two new lab instruments allow DePauw students to use cutting-edge technology in their research. They use a nuclear magnetic resonance spectrometer (NMR) to look at compounds on the molecular level to confirm what they are, and a fluorometer helps them determine how many cells are still alive once the drug has been administered to a sample of cancer cells, according to Scott.
Senior Page N. Daniels, biochemistry major, has worked on the project for four semesters and during a full-time summer internship. She helped to "isolate a target compound that we are currently modifying to improve its anticancer properties." Specifically, her focus last semester was to start modifying that compound to make it "potentially more selective for different kinds of cancer."
One of her favorite parts of the research, Daniels says, is to read protocols and published papers from other labs to glean methods and processes to use in DePauw's lab. She finds it amazing that methods used 30 years ago are still relevant in some ways to current research, and she hopes she can add to this body of knowledge to impact the work of student researchers in the future.
Back