Lee Hamilton '52 Calls on DePauw Students, the Next Generation of Leaders, to "Make This Country Work"
March 6, 2016
"As I've gotten older, I'm less concerned with whether you're a Republican or a Democrat," Lee Hamilton, veteran statesman and 1952 graduate of DePauw University, said at his alma mater last week. "I've become less concerned with whether you're a conservative or a liberal or a moderate. What I want to know as you're sitting at that table, I want to know if you want to make this country work."
Hamilton's appearance Thursday at a lunch hour discussion of the Syrian refugee crisis, the state of the nation, and other issues, is covered in a story in Greencastle's Banner-Graphic.
"While the 34-year-veteran of Congress offered a sympathetic view of the tough job of lawmakers, he also pulled no punches on matters he believes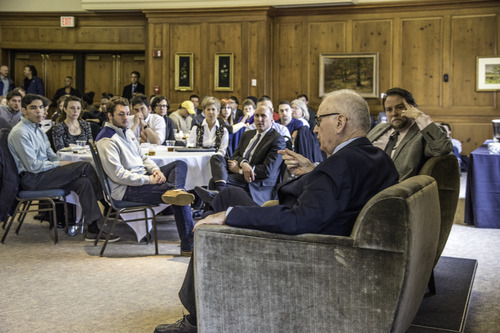 are lacking from today's lawmakers," writes Jared Jernagan.
Hamilton, a Democrat who served 34 years in the U.S. House of Representatives, said, "I believe we are at a time in a representative democracy when it is under a lot of stress. I suspect that you don't think Congress is doing a good job." He added, "There are rhythms in American politics. We're at a low point right now."
According to his calculations, the United States has allowed .06 percent of the Syrian refugees to enter its borders. "Don't tell me the United States is doing its share," Hamilton told a crowd gathered in the ballroom of the Memorial Student Union Building. "We're not coming close."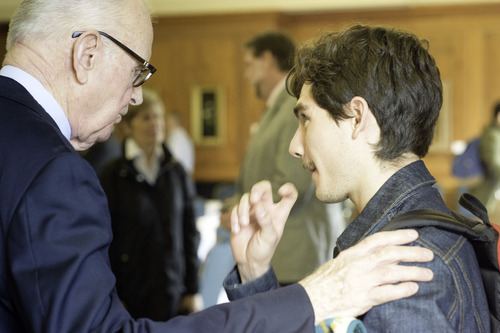 Jernagan adds, "Instead, he praised European leaders such as German Chancellor Angela Merkel for doing far more than the United states to help the crisis. Speaking of the 'moral obligation' to do something about such crises, Hamilton said it has to be a multi-pronged approach, including sending aid, accepting refugees and, perhaps most importantly, trying to help find solutions in the country being fled. In such situations where intervention is required, Hamilton said he wants to see a commitment from the countries being helped. 'I'm not willing to send American lives all over the world unless we have a commitment that they're going to get their house in order,' he said. 'We cannot do it for them.' "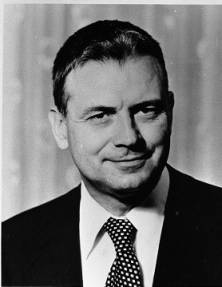 Access the complete article at the newspaper's website.
A history major and basketball standout at DePauw, Lee H. Hamilton is now director of the Center on Congress at Indiana University, a Distinguished Scholar at the Indiana University School of Global and International Studies, and a Professor of Practice in the IU School of Public and Environmental Affairs.
After retiring from Congress, Hamilton served as vice chair of the 9/11 Commission and co-chair of the Iraq Study Group. Last year, he received the Presidential Medal of Freedom from President Obama. He has also received the Churchill Award for Statesmanship,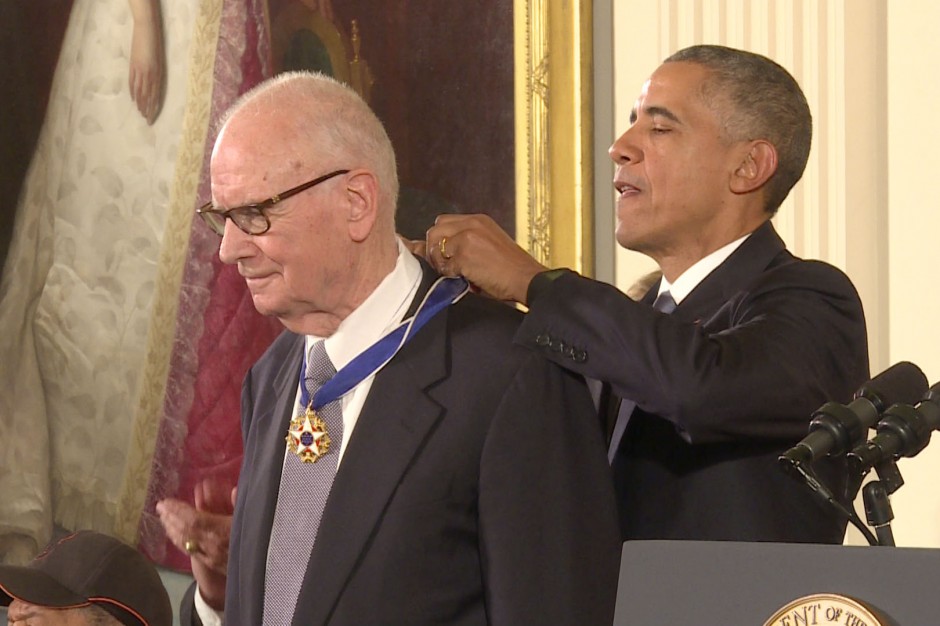 the Eisenhower Medal for exceptional leadership, the Distinguished Service Award from the U.S. Association of Former Members of Congress, and the Franklin and Eleanor Roosevelt Institute Freedom From Fear Award, among many other honors. He's also a member of the Indiana Basketball Hall of Fame and DePauw's Athletic Hall of Fame.
Congressman Hamilton has been a frequent visitor to DePauw over the years and delivered an Ubben Lecture on March 15, 2011 and the commencement addresses in 1971 and 1998.
Source: Greencastle Banner-Graphic
Back