Mark McCoy Named DePauw University's 20th President
March 7, 2016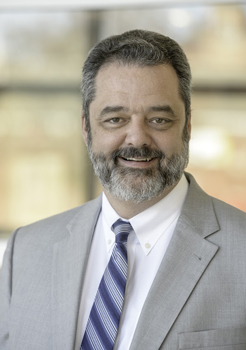 DePauw University's Board of Trustees today unanimously selected D. Mark McCoy, dean of the DePauw School of Music since August 2011, as president of DePauw, effective July 1. He succeeds Brian W. Casey, who is leaving at the end of the current academic year to become president of Colgate University in New York.
An 18-member presidential search committee -- led by Kathy Patterson Vrabeck '85, assisted by Isaacson, Miller, a premier search firm in the higher education and non-profit industry, and consisting of DePauw alumni, students, faculty and administration -- after months of work, came to the conclusion that the top candidate was already on campus. That committee sent the choice of Dr. McCoy to the Board of Trustees. Today's vote confirms the selection.
"We had a tremendous pool of candidates over the course of our national, six month search, who brought very strong credentials and diversity in their personal and professional backgrounds, as well as an understanding of the unique experiences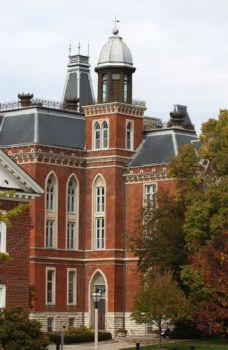 a liberal arts college can provide," noted Vrabeck. "Of all of the talented and dedicated individuals we considered, Mark McCoy was the clear choice to lead DePauw as our twentieth president. He knows and loves this institution, shares our community's ambitious vision for our future, and is a dynamic leader who will be an immediately effective advocate and ambassador for this place we love."
"Mark McCoy's tenure as dean has been highly impactful," added Marshall Reavis '84, chair of DePauw's Board of Trustees. "Mark has greatly raised the profile of the DePauw School of Music, the sixth-oldest School of Music in the nation, and invigorated its offerings with the creation of the 21st Century Musician Initiative. He has also increased multicultural enrollment in the School of Music by 10% to levels that are the highest in our history. Equally powerful have been his efforts to engage the Greencastle community and Putnam County schools with the music programs offered by DePauw, with last summer's opening of Music on the Square -- located in the heart of downtown Greencastle -- as an important agent of that outreach."
A native of West Virginia and the son of a coal miner, Mark McCoy holds a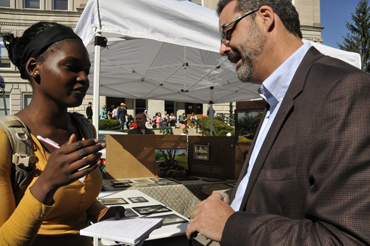 B.A. in music education from Shepherd University, a liberal arts college in West Virginia, a master's degree from the Peabody Conservatory, and a Ph.D. in fine arts with a concentration in music composition from Texas Tech University.
"As a first generation college student, I believe the undergraduate experience should be inspirational, aspirational, and transformational," McCoy said. "I can imagine no college in America that can do that better than DePauw. Our alumni set a high bar and provide shining examples of how DePauw graduates make more than a living -- they make a life."
McCoy began his career in education teaching elementary, middle and high school music in West Virginia and Maryland. He taught theory and jazz at Texas Tech University before serving 16 years as the music executive and a faculty member of Shepherd, where he oversaw 300% growth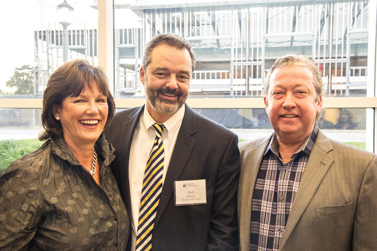 in the music program, a revitalization of facilities and a community based "Friends" group that raised money and community support for department initiatives.
At DePauw, McCoy led the 2013 launch of the 21st Century Musician Initiative (21CM). Unique to American higher education, it is an extensive re-imagining of the professional music school curriculum and student experience with the aim to create flexible, entrepreneurial professionals prepared for the challenges of today's music world. During Dean McCoy's tenure, he raised $23 million for the University and positioned the music school and DePauw as a major cultural destination for the region. Music on the Square has created an innovative musical "communiversity" providing early childhood music, applied lessons and life-long learning courses to the community. Attendance at School of Music events has doubled in his five years as dean, and McCoy partnered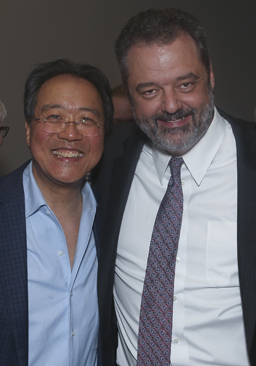 with Yo-Yo Ma to create the Silk Road Global Musician Workshop, which brings musicians from around the world to perform in Greencastle with the world renowned Silk Road Ensemble each June. (above left: McCoy with Joyce and Judson Green ['75 & '74], whose $15 million gift launched 21CM); below right: Dr. McCoy with Yo-Yo Ma)
"In today's higher education climate, DePauw must be more than one of the best -- it must be one of a kind," declares McCoy. "I believe this board, administration, faculty and staff can provide a one-of-a-kind, life-changing experience for our students."
"The merging of DePauw's dynamic and distinguished academic program with President-elect McCoy's energy is a tremendous opportunity for the University," states Anne F. Harris, vice president for academic affairs and Johnson Family University Professor of Art and Art History. "His commitment to academic excellence and innovation will meet and amplify the institution's enduring dedication to its students."
Adds Brad Kelsheimer, vice president for finance and administration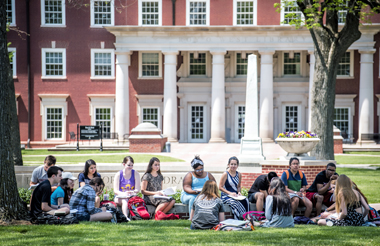 at DePauw, "Dr. McCoy has an advanced understanding of and demonstrated passion for addressing access and affordability concerns in higher education. Throughout the search process, it became clear that Mark will make affordability a high priority in resource allocation decisions and fundraising efforts and that his skill set is ideally suited to addressing this important issue."
"The relationship between Greencastle and DePauw dates back to 1835, when citizens collected $25,000 to convince the Methodist Church to locate a college here," recalled Greencastle Mayor Bill Dory. "As dean, Mark McCoy has celebrated and built upon the campus-community connections and I am very excited about what his presidency will do to carry these important bonds to higher levels." (at right: a DePauw undergraduate and Greencastle Middle
School student celebrate a collaboration)
He has been selected for several executive leadership development programs including the Executive Leadership Academy of the Council of Independent Colleges, the "Advancing to the Presidency" Workshop sponsored by the American Council on Education, and the Harvard Kennedy School on Executive Education's Crisis Leadership in Higher Education Institute. He is a regular visitor and contributor for the National Association of Schools of Music and served on the National Commission on Accreditation.
"Mark McCoy's leadership of the DePauw School of Music has demonstrated that he is a person of vision and energy," said Reavis, a Management Fellow at DePauw who is founder and president of SVM. "He is also cognizant of the challenges facing this college and others and that will require innovative thinking. In times when families are taking a hard look at the cost of higher education and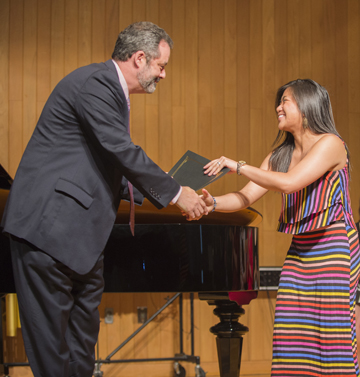 its value proposition, we must ensure that the DePauw experience remains transformative, relevant and accessible. Mark McCoy is up to that task, is very familiar with the campus and its culture, is passionate about making the university a more diverse and inclusive place, and is a proven fundraiser who will energize the ongoing Campaign for DePauw. He will ensure that tomorrow's DePauw students have even greater opportunities to learn and succeed."
Two receptions are planned for tomorrow, March 8, at which members of the DePauw and Putnam County communities are invited to greet DePauw's new president. From 11:30 a.m. to 1:30 p.m., McCoy's appointment will be celebrated in the Great Hall of the Judson and Joyce Green Center for the Performing Arts. A second reception will take place from 5:30 – 7:30 p.m. for those unable to attend the earlier event.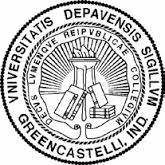 Nationally recognized as one of America's top liberal arts colleges, DePauw was founded by the Methodist Church as Indiana Asbury. Known since 1884 as DePauw, the University is a private, selective, coeducational, residential, undergraduate College of Liberal Arts with a School of Music which is the sixth-oldest in the nation. The University's 2,265 students come from 44 states, the District of Columbia and 36 foreign countries. A full-time faculty of 225 ensures class sizes average fewer than 18 students, engendering a rigorous academic environment that encourages participation, expression and individual attention to students' needs.
Learn more about DePauw's presidential search by clicking here.
Back