DePauw's Next President, Mark McCoy, is a Guest on TV's Inside Indiana Business This Weekend
March 10, 2016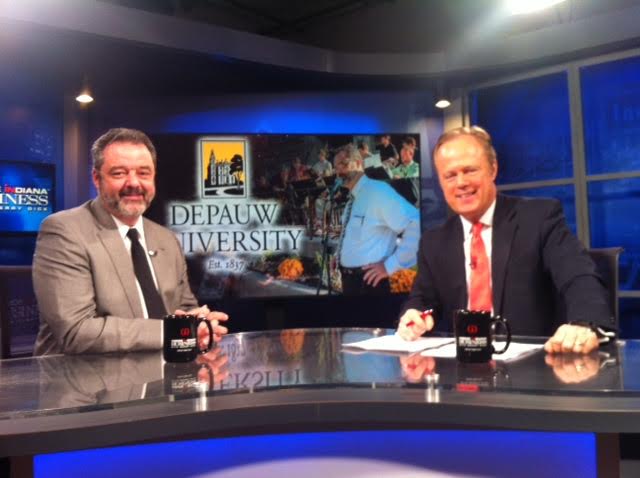 DePauw University's twentieth president, D. Mark McCoy, paid a visit to the statewide television program Inside Indiana Business this afternoon to discuss his excitement about taking the position and some of the issues he'll be focusing on. The taping took place in Indianapolis. (at right: Dr. McCoy on set with the show's creator and host, Gerry Dick)
The show, which is seen in every Indiana media market, will air Friday-through-Sunday. A listing of stations and showtimes is available here.
A unanimous vote Monday by DePauw's Board of Trustees confirmed the selection of an 18-member presidential search committee and concluded a six-month national search for DePauw's twentieth president. McCoy, who has been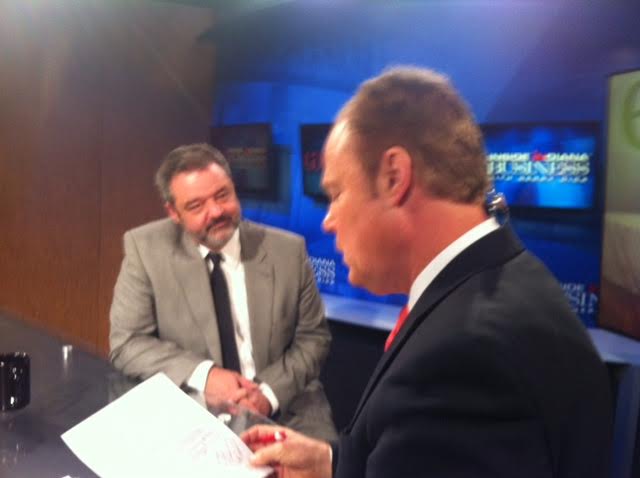 dean of the DePauw University School of Music, was announced as the new president Monday night, news that was cited by a number of media outlets. Two receptions were held on campus in his honor Tuesday (read more here).
McCoy will assume DePauw's top leadership role on July 1. He will succeed Brian W. Casey, who is leaving at the end of the current academic year to become president of Colgate University in New York.
Check this site Monday for video of President-elect McCoy's TV appearance.
Back