East College Will Be Along the Route of the Indiana Bicentennial Torch Relay
March 24, 2016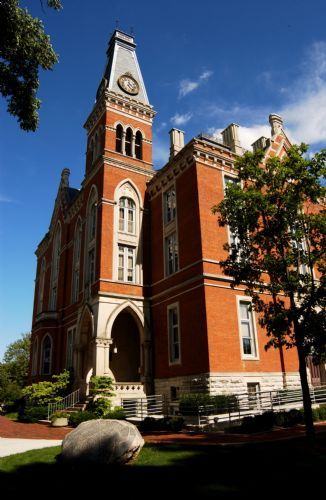 The Indiana Bicentennial Torch Relay -- a 3,200 mile journey through each of the state's 92 counties -- will go through Putnam County and the DePauw University campus on September 22, 2016. Between 5 and 8 p.m. on that day, the torch will pass by several points of local interest, including historic East College on the DePauw campus, the People Pathway, Baker's Camp Covered Bridge, the Forest Hill Civil War Monument, Heritage Lake Dam and the Putnamville Church/Restored Doctor's Office.
The Indiana Bicentennial Torch Relay route can be seen here.
The route will start in Corydon September 9 and end October 15 at the Indiana Statehouse in Indianapolis and will showcase "locations of natural beauty, local interest and historic significances to the state," according to an announcement. Nearly 2,000 people from across the state will serve as torchbearers on a route which will go through 260 cities and towns.
Accompanying the torch will be a high-tech mobile experience—an interactive museum that highlights important milestones during Indiana's first 200 years and looks ahead to the future of the state. State Police personnel will provide logistical support and escort the torch caravan over the course of the relay.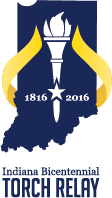 "The Indiana Bicentennial Torch Relay is not only the premier event of our state's Bicentennial Celebration, but it is also an opportunity for Hoosiers from counties large and small to showcase all that makes Indiana unique," says Lieutenant Governor Eric J. Holcomb. "The torch route was designed to highlight the state's cultural fabric, our history and values, and the spirit of Hoosier ingenuity, igniting generations to come."
Built in 1870 and listed in 1975 on the National Register of Historic Places, East College is considered one of the best examples of the composite American architecture of the late 1880s. In 1976, a major restoration of the structure was approved by DePauw's Board of Trustees. The building was rededicated on Old Gold Weekend 1981.
Learn more about East College in this previous story.
Back