Chuck Brooks '79 Receives Cybersecurity Excellence Award
March 25, 2016

Charles "Chuck" Brooks, vice president for government relations and marketing at Sutherland Government Services and a 1979 graduate of DePauw University, has been named "Marketer of the Year" in the Cybersecurity Excellence Awards. The honor recognizes "individuals and companies that demonstrate excellence, innovation and leadership in information security."
Brooks has served as vice president and client executive for Xerox for the Department of Homeland Security and was the first director of legislative affairs for the Science and Technology Directorate of the Department of Homeland Security. He also served six years as a defense and foreign adviser to the late Senator Arlen Specter and is currently adviser to the Technology Partner Network (TPM) of the Bill & Melinda Gates Foundation.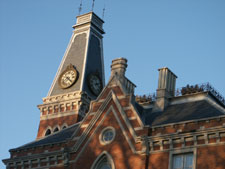 A political science major at DePauw, Brooks earned an M.A. in international relations from the University of Chicago and holds a certificate in international law from The Hague.
Learn more in this previous story.
Back