VP Anthony Jones to Lead DePauw's Admission Efforts; Cindy Babington Named Chief of Staff to President-Elect McCoy
April 1, 2016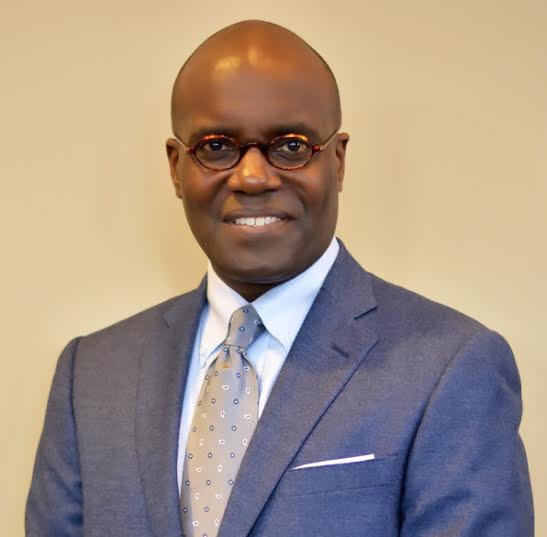 DePauw University President-elect D. Mark McCoy today announced that Cindy Babington, currently vice president for admission and financial aid, has agreed to serve as chief of staff in the new administration. Anthony E. Jones, currently vice president of enrollment management at Fisk University, will join DePauw as its vice president for enrollment management. The appointments are effective July 1, when McCoy assumes the presidency. (at right: Anthony Jones; below left: Cindy Babington)
"An effective president needs a chief of staff who understands the college, its people and its culture, and no one is better prepared to serve in this important role than Cindy," states Dr. McCoy. "I thank her for the great work she has done in DePauw's Office of Admissions and throughout her career here. Her leadership is to be emulated and admired and I look forward to working more closely with her. I am thrilled that Anthony Jones, who has overseen a 57% increase in enrollment at Fisk over the past six years, is bringing his talents and terrific personality to our campus. Anthony is a person of high commitment and strong values and will add much to this stellar team."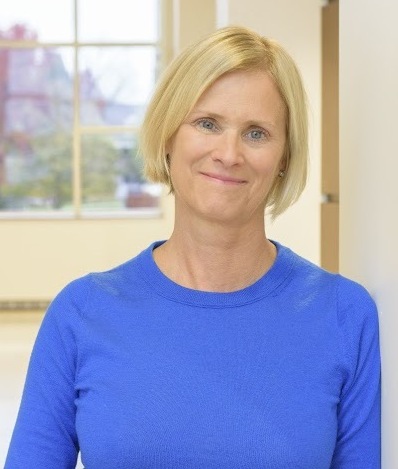 Dr. Babington joined the DePauw administration in 1993 as director of institutional research and has been a vice president since 2008, serving as vice president for student life and dean of students before taking the reins of the University's admission efforts in 2014.
She earned a B.A. from Knox College, an M.A. in education from Butler University, and her doctorate from Indiana University.
"I love DePauw and am excited about the energy and ideas Dr. McCoy is bringing to the presidency," says Babington. "I am honored to be asked to serve in this key role."
Anthony Jones earned a B.A. from Fisk, where he majored in political science and government, graduating summa cum laude and Phi Beta Kappa in 1994. He received the M.Ed. from Vanderbilt University and is completing a Ph.D. from Louisiana State University.
He first served as director of admissions at Fisk from 1997 to 2000. He then had several roles at INROADS, including national director of recruitment; was director of global diversity at Convergys Corporation; and worked for Accel Advisors,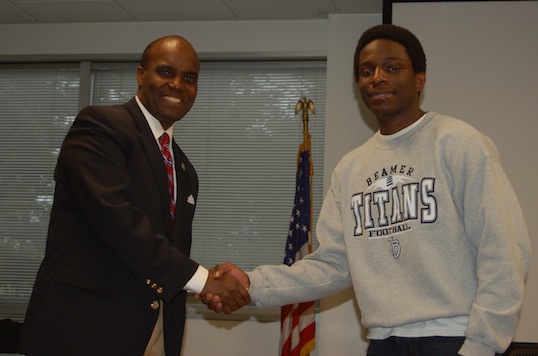 a Cincinnati-based management consulting firm, before returning to Fisk in 2011.
"DePauw is a school with a powerful history," Jones said. "With graduates such as Vernon Jordan, Brad Stevens, Barbara Kingsolver, Percy Julian and thousands of others, it has proven it can provide a significant return on investment. Enrollment shapes the future of an institution; therefore, I'm honored to have the opportunity to impact such an outstanding legacy of producing leaders who positively impact the world." (at right: 2012 photo of Jones with Paul Kalebu, then a junior at Todd Beamer High School in Federal Way, Washington)
Jones has been quoted in publications such as the Los Angeles Times, HR Executive magazine, and Ebony. He is also an in-demand speaker, and has addressed the American Council on Education, General Electric, the Illinois Association of Educational Opportunities Program Personnel, the Society for Human Resource Management, National YMCA Black Achievers and Blue Cross Blue
Shield of Florida, among others. He also published the book and workbook, Success By Design: Becoming the Person You Were Destined to Be.
His community contributions include serving as a member of the board of directors for Mercy Health Partners Hospital System and Leadership Ohio. He was selected for "Who's Who in Black Cincinnati" and was a committee chair for the executive board of Salvation Army Nashville and the National Association of College Deans, Registrars and Admission Officers.
McCoy, currently dean of the DePauw School of Music, was elected DePauw's 20th president on March 7 after a national search.
Back