Upcoming Ubben Lecturer Arne Duncan Aims to Improve Opportunities for Chicago Youth
March 18, 2016
"Arne Duncan, who stepped down as U.S. Education Secretary three months ago, announced Thursday that he is turning his attention to tackling the entangled problems of violence, unemployment and hopelessness among young adults in Chicago," reports the Washington Post. Duncan, who is coming to DePauw University next month for an Ubben Lecture, "is opening a Chicago office for the Emerson Collective, a California-based philanthropy headed by Laurene Powell Jobs, the widow of Steve Jobs. He plans to support entrepreneurs who can provide jobs in neglected neighborhoods, and to create and expand training programs that equip young people with the skills they need to get those jobs."
"I'm of the firm belief that we can't police our way out of this, and we can't arrest our way out of this. We have to provide opportunities," Duncan tells the newspaper. "The thesis is, if we can help young men and women get real skills that will lead to real jobs and pay them to gain those skills, then you give them a reason to not sell drugs and not get caught in the violence."
Emma Brown reports, "Besides his work in Chicago, Duncan also will contribute to another Emerson Collective project -- the XQ Institute, which is running a $50 million national grant competition for communities who want to redesign the high school experience. It is helmed by another Education Department alum, former assistant secretary for civil rights Russlynn Ali."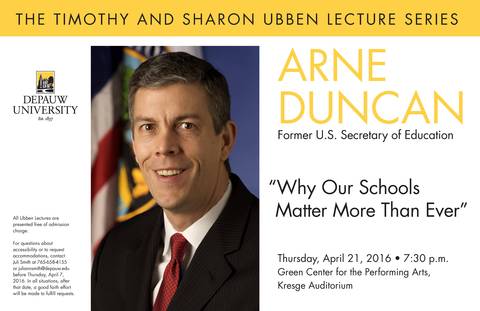 Access the article at the Post's website.
Arne Duncan's April 21 DePauw speech, "Why Our Schools Matter More Than Ever," is free and open to all. You'll find details in this recent announcement.
Established in 1986 through the generous support of 1958 DePauw graduates Timothy H. and Sharon Williams Ubben, the Ubben Lecture Series was designed to "bring the world to Greencastle." Previous guests have included Margaret Thatcher, Bill Clinton, Spike Lee, Mikhail Gorbachev, Peyton Manning, Tony Blair and Benazir Bhutto.
To view a complete roster of Ubben Lecturers -- which includes links to video clips and news stories -- click here. Video montages of many events are available on YouTube.
Back