Decoda Ensemble to Present 'Histories' for Semester's Final Green Concert, Saturday
April 12, 2016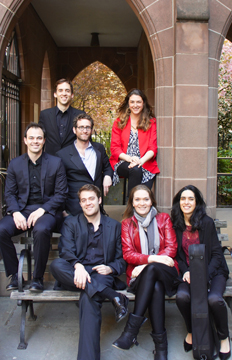 The New York City-based chamber ensemble Decoda concludes this season's residency at the DePauw University School of Music and the 2015–16 Green Guest Artist series with a celebrative Saturday night concert on April 16, at 7:30 p.m. in Kresge Auditorium, located within the Judson and Joyce Green Center for the Performing Arts.
The ensemble will arrive in Greencastle on April 14 for a three-day "Performance Plus" residency, which also includes collaborative, interactive performances with DePauw music students for Greencastle Middle School and "informances" around campus.
The culminating Saturday night concert, "Histories," will feature members of every instrument family and arrangements by Decoda musicians. Among the works on the program, inspired by Stravinsky's "A Soldier's Tale," are Wynton Marsalis's "A Fiddler's Tale" and Louis Armstrong's "Cornet Chop Suey."
Audience members will well remember one of the virtuoso instrumentalists who will perform the latter work: trumpet player and composer Brandon Ridenour, heard on the Green series in 2013.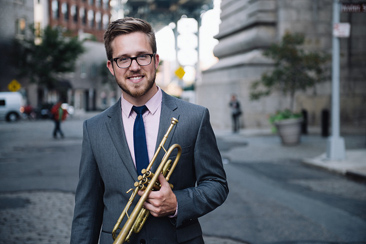 He was then the youngest member ever to play with the famed Canadian Brass. In addition to performing this week with Decoda, Ridenour has arranged two of the pieces on Saturday's Green concert -- Satchmo's terrific "Cornet Chop Suey" and the ensemble's interpretation of J.S. Bach's "Agnus Dei."
Described by Time Out New York as a "collective of some of the brightest young classical musicians in the world," the artists of Decoda first collaborated with one another in the renowned Ensemble ACJW fellowship program, created by Carnegie Hall, The Juilliard School and Carnegie Hall's Weill Music Institute; and they have now extended that relationship as an Affiliate Ensemble of Carnegie Hall.
Since the group's inception in 2011, Decoda's projects have reached audiences in schools, hospitals and prisons as well as in prominent concert halls across the globe. Recent travels have taken them to Abu Dhabi, Iceland, Japan, Mexico, Germany, Hong Kong and Switzerland, the United Kingdom and Denmark, and during the 2015-16 season, Decoda presented projects with partners in
Mexico, Asia, the U.S. and the United Kingdom. For more information about the ensemble, visit www.decodamusic.org.
This program is supported in part by an award from the National Endowment for the Arts (NEA), with additional contributions from Judson and Joyce Green ('74 & '75).
General admission to the Green Concert series is $10 in advance and $15 the day of the event; tickets for seniors, youth and all students are free. Tickets may be obtained in person at the venue's box office, one hour prior to the performance, or online at any time at www.music.depauw.edu.
Back