A Rising Star in Gotham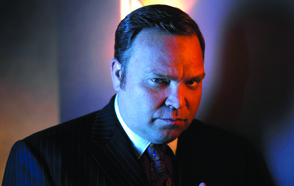 April 13, 2016
When you're closing down a bar with an old friend, there's nothing inherently seedy or scandalous about the final darkling hour before last call. So let's start there: It's 2:52 a.m., and Drew Powell is standing in a basement bar on the lower end of Manhattan, singing Al Green's "I'm So Tired of Being Alone" on karaoke. And while he's killing it -- because Drew Powell can really sing -- he's pretty much just another customer when he stands up there. Just a guy, at the end of the work week, nagging out a Friday night with an old friend.
Boy, can he sing. Drew Powell can really bring it. A reliable falsetto, a warm rasp in his throat, and he knows how to make people believe, in this case, that he's tired of being alone. So tied up on his own. Etcetera. Soon customers stop what they're doing to get a look at him.
He is noticeable. Big, gruff, smiling his all-day smile, gripping the microphone like a hammer, rubbing the scruff of his blonde hair, scratching a grizzled half-beard, Drew Powell has arms like bridge beams. He might reasonably get made as a dock worker, farmer, steel-worker, truck driver. And right here, he might reasonably be assumed to be a tourist, the Hoosier that he is even. But an out-of-towner anyway, happily singing karaoke to a murky half-room. Any man.
Everybody deserves a little anonymity at 3 in the morning. Isn't that the dividend of a day well-lived, a night well-played? Don't we have the right to recede into our karaoke selves once in a while?
The thing is, Drew Powell is getting noticed. Two women crouched at a bottle-jammed café table point at him. At the bar, three-jerseyed men -- Devil, Ranger, Jet -- argue over who he might be. Two think "actor" out loud. One says former pro football player. "College!" someone says. "He never played in the pros!" They've seen him, but they can't place him. "I got it," says one woman, proclaiming that Drew Powell is an MMA fighter whose first name, she thinks, maybe is Ron. Last name, unknown. It's right on the tip of her tongue, she says. He's from somewhere, she says. Nebraska maybe. She'll get it. She will know who Drew Powell is. It's just about to happen.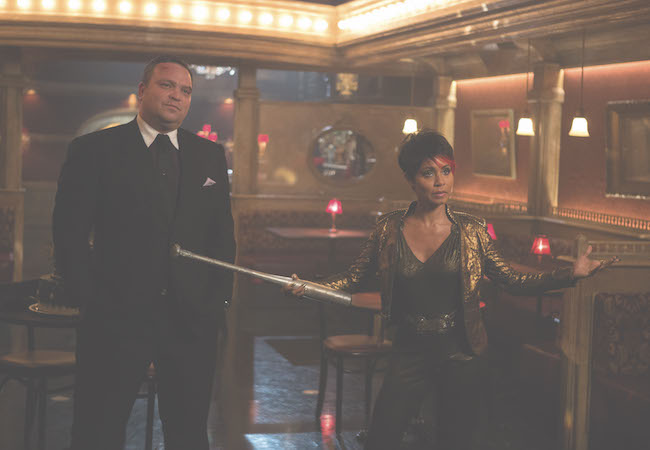 The thing is, everybody is about to know Drew Powell, 1998 DePauw grad, who left Greencastle on the mighty wings of an English literature major, a load of college theater and television, a spate of opportunities offered by the Media Fellows program and some good advice from previous alumni. It was the start of his quest to become an actor in television and film.
Thousands of young people make the same commitment every year. Queue the Cautionary Tale theme music. A life of audition calls and shared apartments, part-time jobs and endless bowls of ramen. The parental nightmare for their college graduate. It takes grit to become a working actor, the requisite luck and an unnerving perseverance.
It's work that began in earnest when he arrived on campus 21 years ago. "Oh man," he says of the opportunities presented by DePauw. "I jumped right in. I did Miss Julie my freshman year with Professor Gigi Jennewein Fenlon directing. Miss Julie. It scared the hell out of me. Until then, I'd done all these happy-time musicals in high school, and suddenly there I am, in Moore Theatre, spending most of the play on stage with two other actors and a ton of lines, doing Strindberg, the most serious theater as a freshman. DePauw put me straight into the deep end. That was huge for me."
"Drew is a man by himself in our business. He's never afraid of where he came from. He shows it. He's proud of it. He is an actor's actor."
Director Jennewein Fenlon, still a communication and theatre department faculty member, remembers it: "I vividly recall he was stunned at the casting, but also by the complexity of his role: Jean, the butler. It was apparent that up to that point he'd been doing a high school/community theatre repertoire of shows like Music Man or Sound of Music. Why did I cast him in Miss Julie? Drew had, and really he still has, great presence on stage and off. I could see he was creative, flexible, humble and respectful."
Powell remains humbled by that first work at DePauw. As recently as five years ago, he appeared on Broadway in a stage presentation of The Pee Wee Herman Show, which he helped originate in Los Angeles one year prior. "Going back to it was kind of a lark. I play a guy in a bear suit. A mute dancing bear!" he laughs. "Strindberg in Moore Theatre was much, much more intense."
From his role in Miss Julie onward, "DePauw just set me up with great expectations for what I could try. I took every opportunity I was presented. I'd ended up in college in Indiana, and I started to think, how can I be on camera in a legitimate way? At first, that was broadcast journalism in various forms. I thought: I'm going to be a sportscaster; I'm going to be an anchorman. So, I did the news. I did a lot of it – week after week. And at the same time, I worked on a student-produced sitcom, as I did throughout my years on campus. I interned at WISH-TV (Indianapolis) for Winter Term, I worked one summer at the Indiana Secretary of State's office. As a Media Fellow, I interned at C-SPAN for a semester, which was exactly as boring as you can imagine it would be for a guy like me. But I absorbed it. All of it. It was work, and it was learning, and I couldn't have done it anywhere else. I just started using the tools that DePauw put in front of me."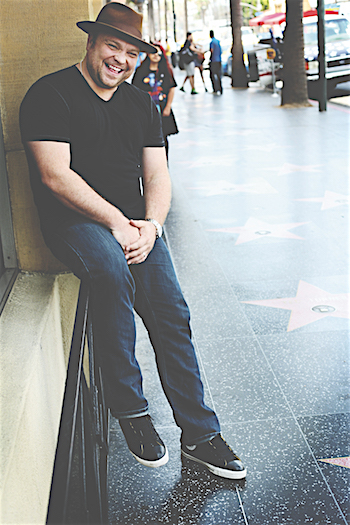 Return to the karaoke bar, to the now of this thing, that summer night in early August, and his singing of Al Green. Well nigh 20 years since the earliest of these chances back in DePauw's Performing Arts Center. Consider the song: Is Powell actually Tired of Being Alone? Is he so tied up on his own?
Answer 1: He's not alone at all. He's married (wife is Veronica) and has a young son, both of whom he loves voraciously. Answer 2: he may be tied up, but it's more likely it's a joyous obligation since he's newly attached to a recurrent role in a hit network television series. Earlier that very week, he returned to New York to begin work on season 2 of Fox television's Gotham, the dark and and brilliantly cast Batman prequel, a noir drama, outlining the nefarious origins of the Gotham City villains during Bruce Wayne's childhood before Batman.
In the show's first season, Powell originated the role of Butch Gilzean, henchman to a season-one villain played by Jada Pinkett Smith. Many people assumed that when Pinkett-Smith's character was knocked off at the end of season one, Powell, as Gilzean, might not persist to season two. Instead, fan interest in Gotham grew, and the series was beefed up, and -- happy day -- Drew Powell was promoted from a recurring guest star to a series regular. It is no small distinction in the business. Being a series regular offers the actor a chance to be identified in connection with a character. Powell has moved his wife and five-year-old son to New York, where the show is produced. Earlier that day, he'd gone in for his first publicity work since signing – a photo shoot for the new regulars. Powell notes better perks, yes. "Mostly it's nice to have a sense that I belong to something bigger than one moment, one appearance," he says. "It's part of what I've been working for since DePauw."
So: Butch Gilzean, the treacherously loyal henchman with his bridge-beam arms, made an impression during season one. This is why people know Powell in the bar with the karaoke. They've seen the show. The henchman is amongst them, only he's Drew Powell up there, an ebullient, jolly spirit, a guy who can really work a stage. And sure they know him for the career he forged as a working actor – a regular or guest on shows such as Malcolm in the Middle, Bones,The Mentalist, Grey's Anatomy, ER, Modern Family, Ray Donovan and Leverage. He once starred as the younger version of the iconic rancher Hoss Cartwright in a short-lived Ponderosa reboot. He's done theater and showcases in Los Angeles and New York.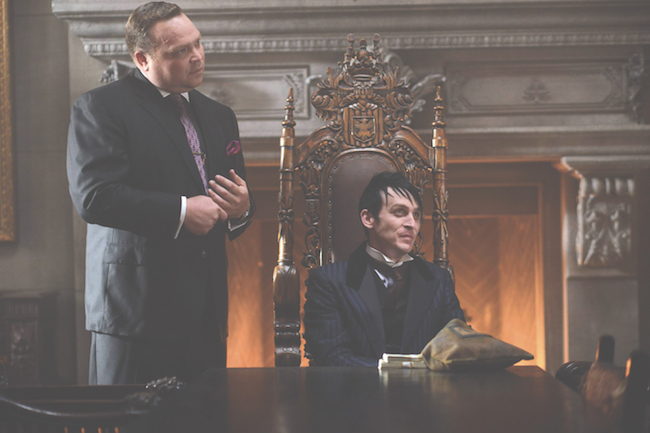 "From the time I was a kid, I wanted to be an actor, but when you grow up in Indiana, you don't know how to do that. I knew how to become a lawyer. People could tell me that. My parents were ministers, and I think I could have done that," he says, not hiding his pride in the lives his parents have led. "It was ingrained in me. I grew up in the church, watching my parents do their work, and they're awfully good at what they do. I grew up in the midst of that work. The church was an extension of home. I spent my childhood falling asleep on the couch in my mother's office, or having wheelchair races in the sanctuary with my brother (James Nathaniel Powell '00) and sister (Elizabeth Powell Young '05)."
But Powell says he knew even then that he wanted to try out acting, to take on the parental nightmare of a life without professional certainty. And lots of dried soup. "There was a theater in Lebanon, Ind., called the Avon, a real old-time place. As a kid, I would sit there, in the dark, week after week, watching movies and I would have this feeling. It was arresting. The story, the images, the feelings that it produced. It was distinct. And I felt it every time, I left the Avon thinking: I knew that was where I wanted to go, to Hollywood for lack of a better word. I knew that was the work I wanted to do.
I just needed the tools, Powell says. "And I thought college could give them to me." This, of course, is where DePauw came in. "I told everyone: Stanford. Or Northwestern. Not because I didn't want to stay in Indiana. I just wanted to get out, see the world. But then I had a conversation with the Media Fellows Program director in my guidance counselor's office my senior year. That sealed it. He was showing me opportunities, all over the map. Academics. Theater. Television. The chance to be involved right from the jump. Had I gone to a bigger school, I'm sure I would have found my niche, but I knew my personality type even then. Bigger fish in a smaller pond was good for me."
"In a lot of ways, DePauw chose me," he says. "They gave me support; I earned a scholarship, which was a happy day in our house. But the best opportunities are provided by DePauw. The high expectations were mine. Lots of opportunity, lots of expectation. That was the match."
So back then, one last time, to the karaoke bar, where the night ends, for the purposes of this story, when the song ends. There will be selfie requests, and an autograph or two. The bartender, who knew him right away, has provided a drink before the bell. How did he come to be here on this night? Who then is the old friend who is closing down the joint?
Well, the latter would be me, his former DePauw professor and academic adviser. Among other things, I write about entertainment. My path has crossed with Drew's many times over the years. We've always promised ourselves a night for reflection and recollection. We walked lower Manhattan, and went to dinner, where we joined Drew's friend, the actor Timothy Hutton, freshly nominated for an Emmy Award on his current series, True Crime. Still, he was decidedly delighted that Drew has been offered the recurrent role on Gotham. "That's network television!" he said. "That is a real viewership!" Hutton said, raising a glass to Powell. "And it's a good show. There's no better place for an actor to be."
When dinner finished, Hutton pulled me aside, when Drew stepped out. He spoke quickly. "Drew is a man by himself in our business. He's never afraid of where he came from. He shows it. He's proud of it. He's kind, and he's humble and he's strong. He is an actor's actor."
Then we split the bill.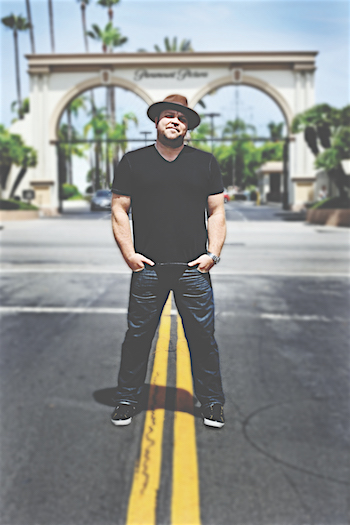 On our walk afterwards, I asked Drew what class he'd had with me. I've interviewed a lot of actors. So I can tell you, Drew Powell dodged my question. Brilliantly. Intro to Poetry, maybe. Neither of us could say for sure. Drew beamed when he spoke, which may have been acting, but really did convince me of his sincerity. "The thing you did was talk to me. Remember?" he said. "You kept after me. You helped me see the virtue of an English literature major. You pushed me to take certain classes, to really try new things. You helped me to see that choosing a major wasn't choosing a career. I could act, and I could still go home and read Milton, which was something I really wanted too."
So what classes did he remember? "By the time I got to my senior seminar with Professor [Cynthia] Cornell, I was really hitting my stride. I did my thesis on "Sexism, Racism and Homophobia in the works of Shakespeare and Chaucer," and I was clicked in on that subject all semester. I wrote that paper and got the best grade I received in college. I was very proud of that, because Professor Cornell was no joke. I earned that. It was a culminating experience, but it was formative, too. It helped me see what hard work could become."
It seemed to me that I once shook his hand at graduation, and next thing I knew he'd made a brief appearance on Malcom in the Middle. Yes, a couple of years had passed, but still. When had he decided on that? How?
Powell looked at me then, and thought. He wants the real answer. He seems without regret, or longing. He emanates appreciation. Always has. As Gigi Jennewein Fenlon told me, he's remained steady and sincere since he left DePauw. "It's been more than 20 years, and he's still the same kind, generous, enthusiastic professional, still has a great work ethic. I recall when he first moved out to California that he found work as a youth counselor in a church. He was proud of this. This care and concern for others, this 'grounded-ness' has always been part of his character. I've heard him attribute it to being from Lebanon. Wherever it hails from, I can imagine that it is a breath of fresh air in his industry."
So, Drew Powell tells me: "Truth is, I had three conversations in my last months at DePauw. First was with the Media Fellows director at the time. I was confiding that I really did want to give this acting thing a shot, so maybe I'd go out there for a summer after my senior year and try it. He looked at me, and he said: "It's not a thing you try in a summer. You either do it, or you don't." He seemed pretty stern. And I needed to hear that, because the have-my-cake-and-eat-it-too part of me can be pretty strong."
Later, Drew was introduced on campus to David Moessinger '52, producer and writer for Murder She Wrote, In the Heat of the Night, Quincy and other shows. Moessinger sat with Powell in an office and talked about the perils and pitfalls of acting. "It took awhile, he really vetted me, but finally he looked at me and said: You know, I think you ought to give it a shot. And that put a lot of wind in my sails. There were no promises, and he didn't get me any work. He just gave me the nod. It felt like he really heard me." Powell shrugs then, and starts walking. "To me, that's DePauw. The connection between the alum and the students – it's very real. Connection and connections."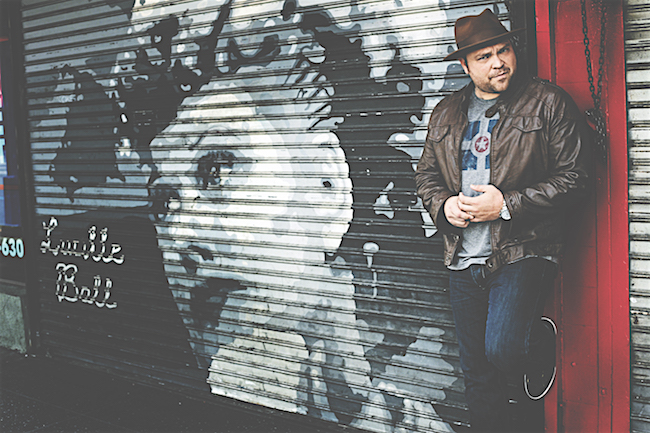 The final conversation? "I'll tell you, on my first day on a television set -- Malcolm in the Middle -- I made friends with this nice woman at the services table. She took me to my trailer, and I was a little stunned. She was so nice. She gave me the run-down, gave me a copy of the pilot, and I thought, this is it: My first job. I didn't know anything. I didn't know who anybody was. That's when I remembered the advice my Dad gave me when I graduated: Be kind. I was just running that through my head. Be kind. In a real way. Bring that with you. So, I just tried to learn, and to stay true to my dad's words. It's what I did in college. And it's what I do at work. I did 11 episodes. That was a great run for me."
That run was only the start, of course. Long after Drew Powell started his work at DePauw, when no one knew him, and long before this very night, which may be the last moment people didn't recognize him as a man once again at the start of something new.
This story originally appeared in DePauw magazine, Spring 2016. Written by Professor of Creative Writing Tom Chiarella, writer-at-large and fiction editor of Esquire magazine.
Back