Fulbright Award Will Send Shelby Guzzetta '14 to Teach in Poland
April 25, 2016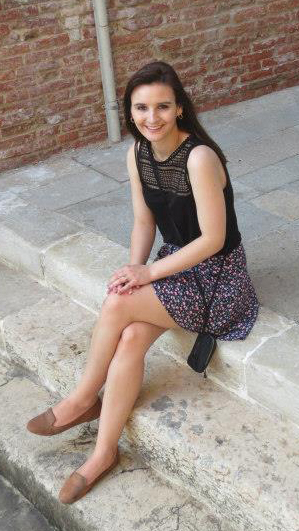 Shelby (Beasley) Guzzetta, a 2014 graduate of DePauw University, will spend the 2016-17 academic year teaching English in Poland as the recipient of an English Teaching Assistantship (ETA) from the Fulbright U.S. Student Program.
An English (literature) and political science double major as an undergraduate, Guzzetta currently teaches high school English at Instituto Health Sciences Career Academy in Chicago.
She becomes the fifth member of the DePauw community to receive a Fulbright award this spring. Madeline N. Hawk '16 and Hattie E. Blair '16 will both spend the 2016-17 academic year teaching English in South Korea with English Teaching Assistantships (ETA)

from the Fulbright U.S. Student Program. Justin Agrelo, a 2013 graduate of DePauw, will use an ETA to teach English in Argentina. Eugene Gloria, professor of English, has received a Fulbright Lectureship Award and will be hosted in spring 2017 by Center for Creative Writing and Literary Studies at The Pontifical and Royal University of Santo Tomas, The Catholic University of the Philippines (UST).
Guzzetta, whose goals include a career in which she will work with immigrant populations in the United States, notes, "Polish immigrants make up the seconnd-largest immigrant population in my home of Chicago, and I feel that living in and experiencing Poland's culture firsthand will be an asset to my work. As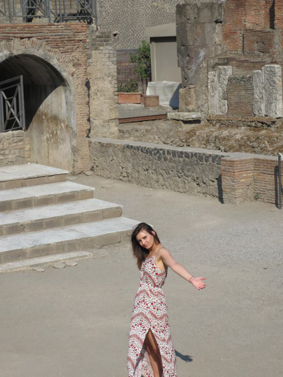 an experienced teacher with an ESL certification, I feel that I have multiple talents that I could bring to the program."
While in Poland, she plans to engage with her host community by creating what she calls a "coffee talk social club."
"The club would allow students and community members to come together to talk about books, movies, politics, and current day issues over a meal or coffee," Guzzetta explains. "The group would meet weekly and would provide an opportunity for people to further develop their English language skills as well as engage in a cultural exchange."
After her year in Poland, Guzzetta's plans include returning to Chicago to teach for a year or two, and then she will enroll in law school with a focus on immigration law. "I hope to make a career of helping people gain their citizenship in the U.S. as well as working to reform current immigration law," she says. (below: Shelby Guzzetta with her husband and DePauw classmate, Vincent Guzzetta '14)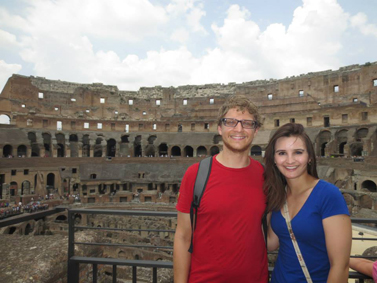 The Fulbright Program is the flagship international educational exchange program sponsored by the U.S. government. The primary source of funding for the Fulbright Program is an annual appropriation made by the U.S. Congress to the U.S. Department of State, Bureau of Educational and Cultural Affairs. Participating governments, host institutions, corporations, and foundations in foreign countries and in the United States also provide direct and indirect support. Recipients of Fulbright grants are selected on the basis of academic or professional achievement, as well as demonstrated leadership potential in their fields. The program operates in more than 160 countries worldwide.
The Fulbright Program awards approximately 8,000 grants annually. More than 360,000 individuals have participated in the program since its inception.
Learn more here.
DePauw University is listed among the "Top Producers of Fulbright Awards for U.S. Students, 2015-16" in the Chronicle of Higher Education. DePauw has been cited as one of the USA's top producers of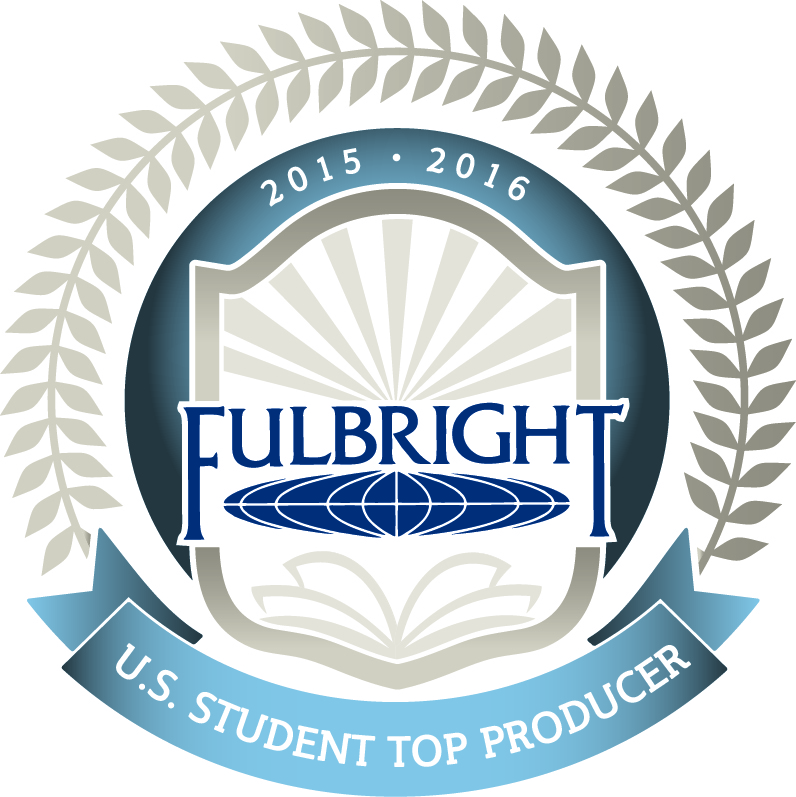 Fulbright Fellows five consecutive times and in nine of the last 10 years.
See the names of DePauw's Fulbright recipients here or visit the University's Fulbright page.
DePauw students and alumni who are interested in applying for Fulbright Awards may contact Jason D. Fuller, associate professor and chair of religious studies and director of the Asian studies program, or Kate Knaul, assistant dean of experiential learning and director of national fellowships and awards.
DePauw University ranks #4 among the nation's baccalaureate institutions in the number of students who studied abroad in 2013-14, according to the 2015 Open Doors Report on International Educational Exchange. Read more here.
Back