Decoda, at DePauw Earlier This Month, Performs at the White House Today
April 27, 2016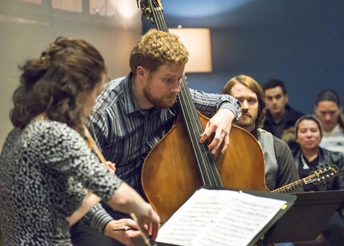 The New York City-based chamber ensemble Decoda, which performed at DePauw University nine days ago, is today performing at the White House. U.S. Attorney General Loretta Lynch is expected to be among those in the audience when Decoda performs "Welcome to my World" as part of its Music for Transformation Initiative. (at right: Decoda performing at DePauw's Music on the Square)

The Associated Press notes, "The song was written earlier this year by inmates at Lee Correctional Institution, a maximum-security prison in Bishopville. Members of Decoda worked for a week with a select group of inmates, guiding them through the song-writing process and helping them put together a concert of their own.The performance Wednesday is part of National Reentry Week, aimed at helping the roughly 600,000 state and federal prisoners who return each year to neighborhoods to better acclimate to society."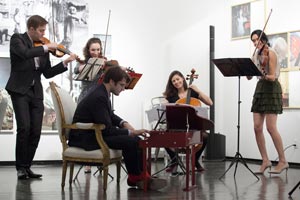 Read more here.
Decoda's Green Guest Artist Series concert was part of a three-day "Performance Plus" residency at the DePauw University School of Music as part of the 21st Century Musician Initiative. The visit included collaborative, interactive performances with DePauw music students for Greencastle Middle School and "informances" around campus.
A live stream of today's event is available from the White House beginning at 1 p.m. (ET).
Back