First-Year Student Featured in Teach For America Magazine
May 1, 2016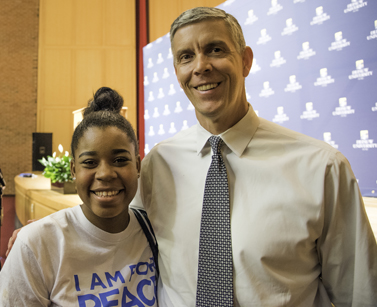 "The year has tested her both academically and socially," notes One Day, the magazine of Teach For America, in an article on Janeya Cunningham, who "is wrapping up her first year as a Posse Scholar at DePauw University."
In high school, Cunningham co-founded I Am For Peace, a movement designed to to combat violence in Chicago neighborhoods. The story describes how she has adjusted to life in Greencastle, 180 miles away from her home, and the role she has played in campus discussions on race, difference and social justice.
Leah Fabel writes, "In April, former Secretary of Education Arne Duncan, who appeared in the I Am For Peace documentary, gave a lecture on campus. At a reception at (President Brian) Casey's house beforehand, he and Cunningham spoke about partnering on her peace work in Chicago over the summer. During his speech, he surprised her by asking her to stand.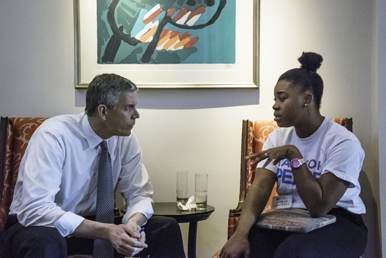 'We as adults have failed our kids in so many ways,' he said. 'Folks like Janeya step up and in a very positive, proactive way say we have to do better. We must do better. I can't tell you how much that inspires me.' "
Cunningham tells the magazine, "That was probably the best day so far. He even pronounced my name correctly."
The piece is headlined, "Her Best Day Yet: How a High School Peace Activist Stepped Up in College." The online version, available here, includes video of Duncan citing Cunningham's work, which is also embedded below.
A summary of Arne Duncan's April 21 Ubben Lecture, "Why Our Schools Matter More Than Ever," is available by clicking here.
Back