Vernon Jordan '57 Presents Honorary Doctorate to President Obama at Howard University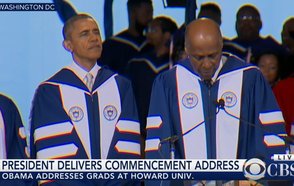 May 7, 2016
Vernon Jordan, a legendary figure in the civil rights movement and 1957 graduate of DePauw University, presented President Barack Obama with an honorary Doctor of Laws degree at Howard University's commencement ceremony this morning. Jordan serves on Howard's Board of Trustees (he's also a longtime trustee at DePauw); President Obama delivered the address to Howard's Class of 2016.
In his remarks, Obama told the graduates that America is "a better place today" and is "by almost every measure" better than it was when he graduated from Columbia University in 1983.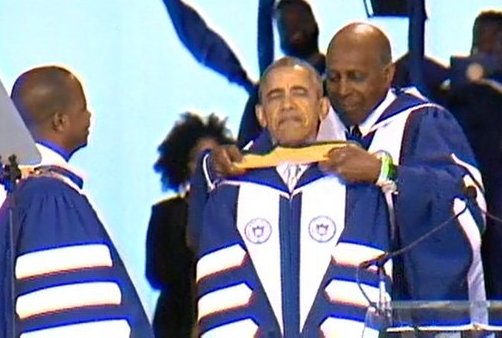 He urged his audience to engage as citizens, stating, "When you don't vote, you give away your power."
The president added, "Change is the effort of committed citizens ... Change requires more than speaking out; it requires listening to those with whom you disagree, and being prepared to compromise."
A summary is available at ABC News.com and via Reuters.
A political science major as an undergraduate, Vernon E. Jordan Jr. is senior managing director of Lazard Frères & Co. LLC and senior counsel at Akin Gump Strauss Hauer & Feld, LLP. An advisory member of DePauw's Board of Trustees, Jordan has twice presented the commencement address at his alma mater, in 1973 and 1993.
In December 2009, he was one of eight individuals presented with the Du Bois Medal, the highest honor awarded by the
Harvard University Institute of Politics' W.E.B. Du Bois Institute. He's also been honored with the Spingarn Medal, the NAACP's highest honor for achievement, and the Trumpet Award. In 2014 he received The American Lawyer magazine's Lifetime Achievement Award. and last year accepted the Fred L. Shuttlesworth Human Rights Award from the Birmingham Civil Rights Institute.
On November 18, 2011, Vernon Jordan introduced Bill Clinton as the former president delivered DePauw's 25th anniversary Ubben Lecture. A summary of the event can be accessed here; video of the introduction is embedded below.
Back