DePauw's Sustainability Leadership Education Initiative Impacts 1,000 HS Students Statewide
May 9, 2016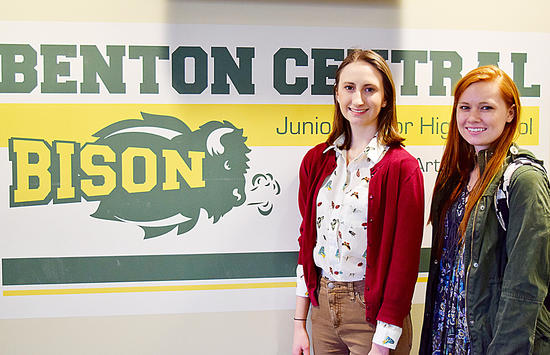 As part of DePauw University's new Sustainability Leadership Education initiative, "Twenty students from DePauw's Environmental Fellows and Sustainability Leadership Program presented to 1,000 high schoolers in Central Indiana this spring -- from Greencastle High School to Pike to Brown County to Mount Vernon and more," reports the Banner-Graphic. "At each presentation, high schoolers were asked to compete in teams against each other to create the best plan to solve a problem, including figuring out how to increase recycling participation or reduce energy use." (photo: DePauw first-year student Kiara Goodwine and sophomore Haley Chute visited Benton Central High School in rural Oxford).
"We're all about student empowerment," says Anthony Baratta, director of sustainability at DePauw and 2009 graduate of the University. "We just really want to inspire teens to start an initiative at their school. They'll gain leadership skills, make a difference in their community, and it's honestly a lot of fun."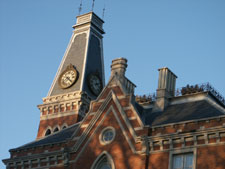 "(The students') participation in all of the activities made the experience lively and fun for everyone involved," adds DePauw junior Akil Davis.
Access the complete article at the Greencastle newspaper's website.
Visit the Office of Sustainability online.
Back