Zebulon Holsopple is 2016 Battey National Educator of the Year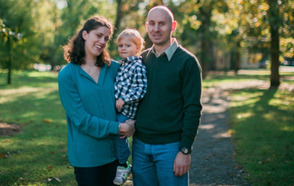 May 15, 2016
Zebulon Holsopple, a science teacher at J.D. Clement Early College High School in Durham, North Carolina, is the recipient of the 2016 Battey National Educator of the Year Award. Presented by DePauw University's Honor Scholar Program, the Battey Award recognizes a teacher who inspired a current DePauw Honor Scholar while that student was attending high school.
"I was told once that the best leaders aren't the ones in charge; the best leaders are the ones who inspire others to lead and Zeb has done that many times over," wrote Thomas L. Miller, a current DePauw senior, in his letter of nomination. Miller was a pupil of Holsopple when the teacher was new at Indiana's Goshen High School. Miller says Holsopple "managed to convey most of our lessons through hands-on projects. We explored local ecosystems, demonstrated biomagnification through a game, and spent a good portion of our class time outdoors. In a testament to his leadership, for lessons where hands-on projects
were not enough, Zeb managed to direct productive, engaging group discussions with high schoolers. These sorts of lessons taught us the material, but also taught us how to explore questions, convey meaning, and think critically."
Miller -- a physics major and mathematics minor at DePauw and student manager of the campus farm -- wrote of the field trips Holsopple led, which "were designed to make us critically think about how humans' impact wilderness while identifying key aspects of the local ecology." Miller says that, inspired by his teacher, he and his classmates "learned how to plan trips of our own. We now run our own trips every year and make it a point to bring people who have no experience. The lessons we learned from Zeb have shaped many of my personal beliefs and have inspired me to action. I know I'm not the only one either. Out of the eight people on his first trip into the Boundary Waters, four of us are about to graduate college and have committed to studying the environment in a post-graduate education."
"I firmly believe all students can learn; however, it is important to realize the fact that students learn in different ways, in different time frames, and are able to demonstrate their learning in different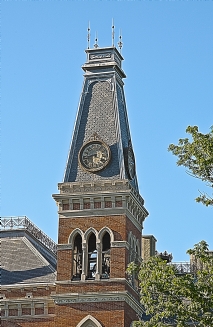 ways," says Holsopple. "It is my job as an educator to ensure that all students have the opportunity to learn, to experience success within the classroom, and to acquire the life skills necessary to succeed beyond school. This is accomplished by providing students with high-quality learning experiences in a positive learning community that engages all students, challenges all students, and pushes all students into higher-order thinking."
As the recipient of the Battey National Educator Award, Holsopple receives an honorarium of $7,500. The Battey Award also includes a $2,500 grant for his school.
A gift by Charles and Joan (Westmen) Battey created the endowment which funds the award, which was first presented in 2008. The Batteys wanted DePauw Honor Scholars to reflect on and recognize the long-term impact of a teacher; as a result, nominating students must be in their senior year to make a nomination. Mrs. Battey is a 1954 graduate of DePauw. Previous winners are: Gregory Lewis (2008), Andrew Goodwin (2009), Bruce R. Myers (2010), Stephanie Nagelkirk (2011), Perry Keil Thapa (2012), David Hoover (2013), Tona Gardner (2014) and Logan Kuhne (2015).
Back