Brad Sugarman '94 Joins Krieg DeVault as Partner
May 17, 2016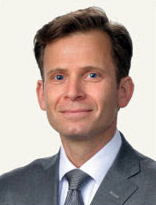 Bradley R. Sugarman, a member of DePauw University's Class of 1994, has joined Krieg DeVault as partner and will work from the law firm's Indianapolis headquarters. He will chair the environmental practice group and "will focus his practice on a broad range of environmental matters," according to today's announcement.
He comes to Krieg DeVault from Taft Stettinius & Hollister LLP, where he worked since 2001 and was a partner. He previously worked for Baker & Daniels in Indianapolis.
An Honor Scholar at DePauw, where he studied for two years, Sugarman earned a B.A. from the University of Virginia and a J.D. from Vermont Law School. He is co-founder of Bicycles for Humanity Indiana (B4H), which repurposes old bicycles for communities with restricted access to transportation in Indiana and Africa.
Back