Weather Looks Ideal for Class of 2016's Big Day
May 19, 2016
Links: Weather; Webcast; Pre-Order Your DVD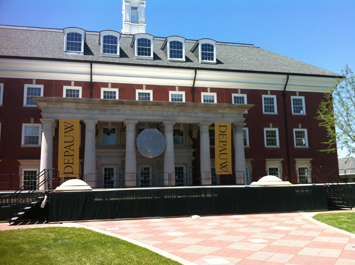 At 10:30 Thursday morning, 72 hours before the start of DePauw University's 177th Annual Commencement, the weather forecast continues to look ideal. A total of 533 undergraduates are expected to receive bachelor's degrees in the program, which will take place in Holton Memorial Quadrangle. Those who cannot attend the event in person are invited to watch a live webcast via this link. (at right: the staging area is beginning to be assembled)
The weather outlook now calls for pleasant temperatures in the upper 60s to mid 70s through the weekend, with a very slight chance of rain on Saturday. Forecasters say commencement day should be ideal, with sunshine and a high of 75 degrees.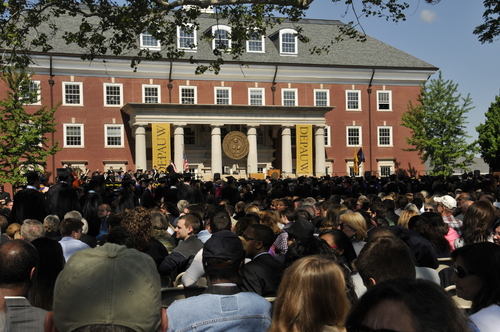 In the event of adverse conditions, Sunday's proceedings will be moved to the Lilly Center. You'll find the latest weather forecast by clicking here.
DePauw's Class of 2016 will hear from Tavis Smiley, the host of the late-night PBS talk show Tavis Smiley, as well as The Tavis Smiley Show on Public Radio International (PRI). Craig Carter '16, who received the Walker Cup on April 25, will also make an address. Brian W. Casey, whose eight-year presidency at DePauw ends at the conclusion of this academic year, will deliver the traditional charge to the graduating class.
Honorary doctorates will be presented to Smiley and Douglas Hallward-Driemeier, the attorney and 1989 DePauw University graduate whose arguments helped persuade the U.S. Supreme Court to rule in favor of same-sex marriage last summer, will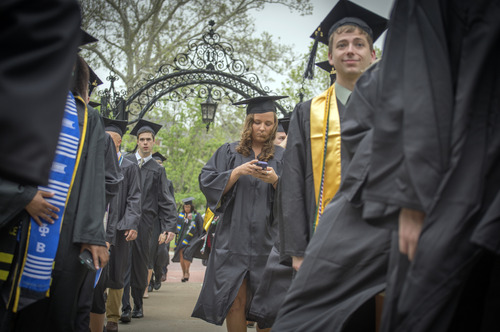 also be presented with an honorary degree.
Saturday's 4 p.m. baccalaureate program, which takes place in Kresge Auditorium, will also be webcast and is available from the same link.
Graduates and their families are invited to order a limited edition DVD of the commencement program. The disc, which is professionally replicated, will include footage of each graduate receiving their DePauw diploma as well as a range of bonus materials, including clips of some of the most memorable moments of the past four years, such as Ubben Lectures by Jimmy Kimmel, Jane Goodall, Dan Quayle '69, Martin Luther King III, Bret Baier '92 and Andrew Luck. The DVD will also contain a video tribute to outgoing President Brian W. Casey and vintage film from the DePauw Archives.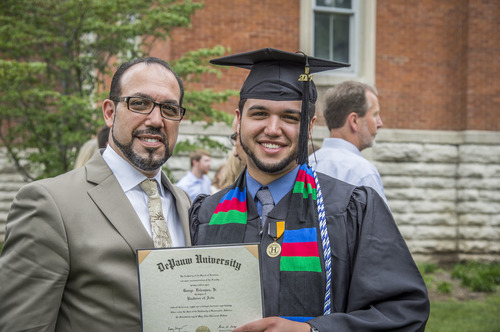 Orders are now being accepted at $19.95 for the first disc; additional DVDs sent to the same address will be $8 each (7% sales tax will be added to Indiana orders). An online order form is available here; you can learn more about the disc in this article.
For more information on DePauw's commencement, click here.
Back