Sports Media Organization to Honor ESPN Founder Bill Rasmussen '54
May 30, 2016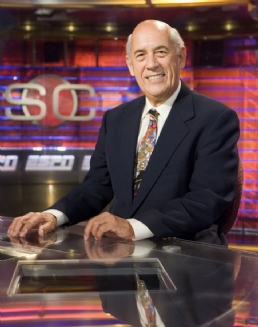 Bill Rasmussen, the entrepreneur and 1954 DePauw University graduate who founded ESPN, will be among four executives to be inducted into the Hall of Fame at the fifth annual Cynopsis Sports Business Summit. The event will take place on Wednesday, June 22, at the New York Athletic Club. The honorees "have each transformed how sports and pop culture intersect," notes an announcement.
"We are honored to welcome four of the industry's true trailblazers, who have each left an impact on the business and have opened doors for the public to view sports as never before,' said Chris Pursell, director of sports content and editor of Cynopsis Sports.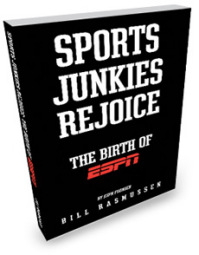 "Bill Rasmussen's legacy in sports has resonated not only throughout the country, but around the world as he gave the world its first 24-hour television network for sports," adds a news release. "As the founder of ESPN, he broke the advertising barrier to cable television by signing Anheuser Busch to the largest cable TV advertising contract ever. As a life-long entrepreneur and sports fan, Rasmussen's innovations in advertising, sports and broadcasting are tremendous and include the creation of SportsCenter, wall-to-wall coverage of NCAA regular-season and 'March Madness' college basketball, and coverage of the College World Series."
Cynopsis is a free, daily e-publication dedicated to the business of TV sports, and is delivered to more than 54,000 readers.
Read more here.
Chris Berman calls Rasmussen "the George Washington of ESPN." Jim Miller, the co-author of the book, Those Guys Have All The Fun: Inside the World of ESPN, told SportsBusiness Journal that Rasmussen "is a guy whose idea gave
birth to, arguably, the most successful media story of our time." The author of Sports Junkies Rejoice: The Birth of ESPN, he was recognized as one of the 2011 class of "The Champions: Pioneers & Innovators in Sports Business."
In 2012, Bill Rasmussen returned to DePauw for two weeks as "executive-in-residence." A Rector Scholar and economics major as an undergraduate, Rasmussen was interviewed that week on TV's Inside Indiana Business and was inducted into the DePauw Media Wall of Fame. (above right: Rasmussen talks with students at DePauw's Pulliam Center for Contemporary Media.
Back