Jeff Harmening '89 Appointed Chief Operating Officer of General Mills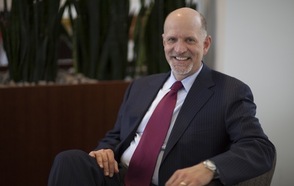 June 23, 2016
Jeffrey Harmening, a 1989 graduate of DePauw University, was today named the new chief operating officer of General Mills Inc. A 22-year veteran of the company, Harmening was serving as executive vice president and chief operating officer of U.S. Retail. He'll assume his new post on July 1.
The Wall Street Journal reports, "The company said Mr. Harmening, 49 years old, will take responsibility for all of the company's operations effective July 1 and will continue to report to Chief Executive Ken Powell. 'The timing is right to bring together overall operations under one leader,' Mr. Powell said."
Adds the Minneapolis Star Tribune, "If history is any guide, Harmening is on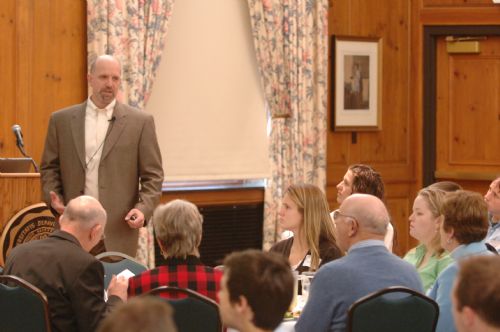 his way to the top job. The last time General Mills appointed a president it was Ken Powell in 2006. Powell, 62, the next year ascended to chief executive, a position he still holds. Before Powell, the previous president was Steve Sanger [DePauw '68], who became CEO in 1995." (at left and below: Harmening talks with Management Fellows at DePauw)
An economics major and Management Fellow at DePauw, Jeff Harmening received an M.B.A. from Harvard University and serves on DePauw's Board of Trustees. He's also on the board of Partners in Food Solutions, a global non-profit organization that brings together business and technical expertise from global food companies to help fight hunger in Africa.
He has stated, "I have made a few really good, and really important, decisions in my life. Coming to DePauw and participating in the Management Fellows program was one of them."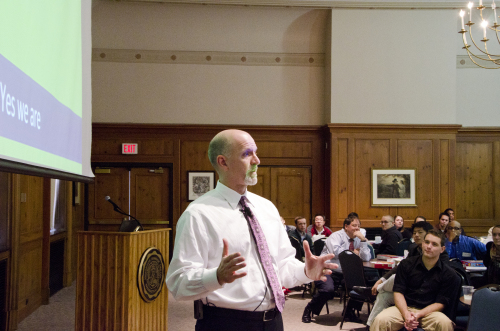 Before his current role, Harmening was CEO of Cereal Partners Worldwide (CPW) – General Mills' joint venture with Nestlé. He's also been president of General Mills' Big G cereal division and vice president of marketing for CPW, headquartered in Lausanne, Switzerland.
A frequent visitor to campus, Jeff Harmening's February 2003 address to Management Fellows was covered in this story.
Back