California Newspaper Carries Quotes from Tavis Smiley's Commencement Address at DePauw
June 29, 2016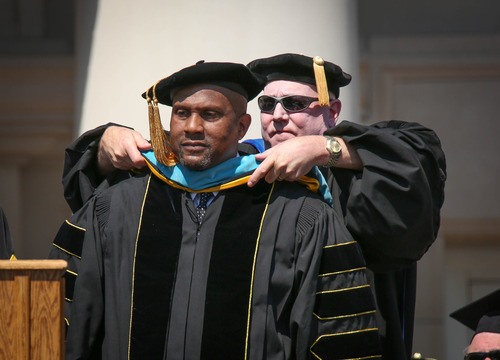 Woody Woodburn, a columnist for California's Ventura County Star, offers his readers "a 'Kitchen Sink Column' of notes, quotes and other stuff." It includes two quotes from Tavis Smiley's May 22 address to DePauw University's Class of 2016. (at right: Smiley receiving an honorary doctorate following his speech)
Woodburn shares Smiley's statement, "You can't lead people unless you love people, and you can't save people unless you serve people." Also, "Today is not refundable. Make the most of it!"
You'll find the item at the newspaper's website.
A summary of Smiley's remarks is available here.
Tavis Smiley's speech at DePauw was also cited in a June 3 Huffington Post piece, which was headlined "This Year's Commencement Speakers Want Grads To Try A Little Peace, Love And Understanding."
A total of 533 bachelor's degrees were awarded during DePauw's 177th Annual Commencement on May 22, which also included remarks from Craig R. Carter, the 2016 recipient of the Walker Cup.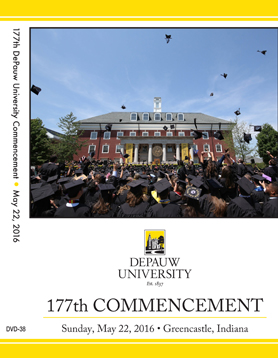 A limited edition DVD of the commencement program is available. The disc includes footage of each graduate receiving their DePauw diploma as well as a range of bonus materials. Orders are now being accepted at $19.95 for the first disc; additional DVDs sent to the same address will be $8 each (7% sales tax will be added to Indiana orders). An online order form is available here; you can learn more about the disc in this article. (at right: the front cover of the 2016 commencement DVD)
For more information on DePauw's commencement, click here.
Source: Ventura County (Ca.) Star
Back