Ted Jacobi '10 Traces Lincoln's Ties to Putnam County in Museum Address
June 27, 2016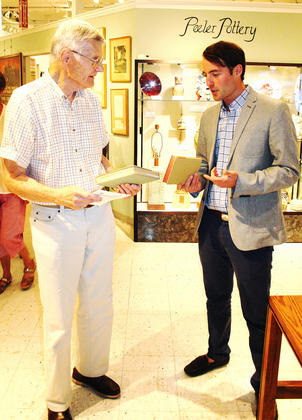 "As far as I know, he's the only president whose name greets you when you enter three states," Ted Jacobi, a 2010 graduate of DePauw University, says of Abraham Lincoln. Jacobi spoke Saturday morning at the Putnam County Museum.
As the Banner-Graphic reports, "Jacobi's graduate thesis focused on Greencastle resident and author/historian Jesse Weik who with Lincoln's former law partner William Herndon collaborated on Herndon's Lincoln, the definitive biography of the 16th president first published in 1889." (photo: Jacobi, at right, chats with Robert Sedlack, professor emeritus of English, at Saturday's event)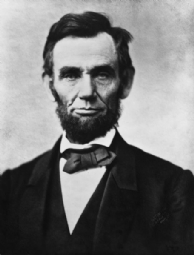 Eric Bernsee writes, "Jacobi offered plenty of testimony that Weik, an Indiana Asbury College (now DePauw University) graduate whose family owned a store on the courthouse square, not only wrote the majority of Herndon's Lincoln but for years kept stored in the Greencastle residence (now Bittles and Hurt Funeral Home) he shared with Professor John Clark Ridpath, the extensive records and research Herndon had done on Lincoln's life. 'The documents stayed in Greencastle until Weik died in 1930,' Jacobi told the museum audience. After Weik's death, the documents were whisked away to the Library of Congress, where they have been ever since, the speaker said."
A history major and Spanish minor at DePauw, Jacobi was a standout on the Tigers' men's soccer team. He told the gathering, "There have been 15,000 books published about Lincoln,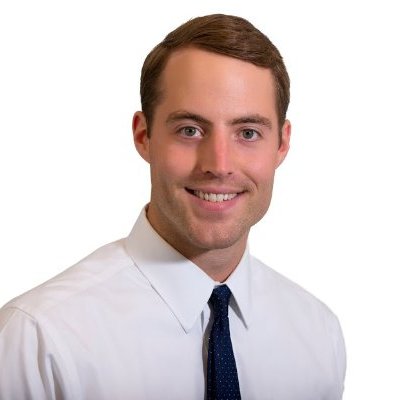 making him second only to Jesus Christ as the most written about person in history."
Access the complete article at the newspaper's website.
Ted Jacobi is currently assistant director of admission at New York University and is pursuing an M.P.A. at NYU's Robert F. Wagner Graduate School of Public Service. He worked at DePauw from 2010-14 and served as assistant director of admission.
Source: Greencastle Banner-Graphic
Back