Twin Disc Appoints David Johnson '85 to Board
August 3, 2016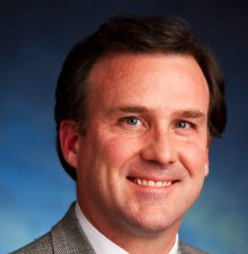 David W. Johnson, vice president and chief financial officer of Johnson Outdoors Inc. and 1985 graduate of DePauw University, has been appointed to the board of directors of Twin Disc, Inc. (NASDAQ:TWIN). The company designs, manufactures and sells marine and heavy-duty off-highway power transmission equipment.
"David's financial and business knowledge will be a tremendous asset to Twin Disc's Board of Directors," states David B. Rayburn, chairman of the board. "David brings a significant amount of experience working in the personal marine and watercraft industry and managing global financial activities. We look forward to David's expert counsel and welcome him to the board."
Johnson has been with Johnson Outdoors since December 2001, originally serving as director of treasury services and financial analysis. He previously held a number of financial positions, first with the Northern Trust Company and later with Procter & Gamble. He was recently recognized as a Milwaukee Business Journal 2016 CFO of the Year.

An economics major and football player at DePauw, Johnson went on to earn an M.B.A. from the University of Chicago.
Read more here.
Back