Tony-Winning Hamilton Actor Leslie Odom Jr. Coming to DePauw for Sept. 20 Ubben Lecture
August 18, 2016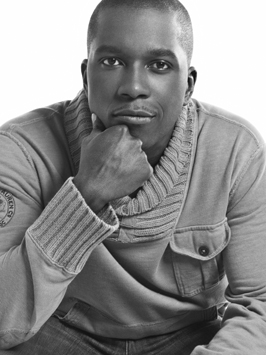 Leslie Odom Jr., whose portrayal of Aaron Burr in the smash hit Hamilton earned him the 2016 Tony Award for Best Leading Actor, is coming to DePauw University. The multifaceted performer will discuss his life and career in a Timothy and Sharon Ubben Lecture, "Finding Your Personal Spotlight," on Tuesday, September 20, at 7:30 p.m. in Kresge Auditorium, located within DePauw's Green Center for the Performing Arts (605 S. College Avenue).
Odom's 7:30 p.m. speech will be followed by a question-and-answer session and a brief musical performance. Like all Ubben Lectures, the event is presented free of admission charge and is open to everyone.
Odom also won a Grammy Award as a principal soloist on Hamilton's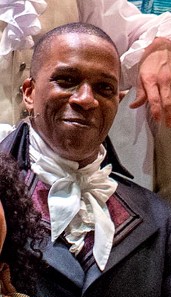 original Broadway cast recording, which was honored for Best Musical Theater Album.
He originated the role of "Burr" in a sold-out run at New York's Public Theater in 2015, earning a Drama Desk Award nomination for Outstanding Featured Actor in a Musical and a Lucille Lortel Award nomination for Outstanding Lead Actor in a Musical. He left the show on July 9 to pursue other interests.
"Nothing lasts forever in my profession," Odom told Forbes last month. "I've been involved with Hamilton for about two and a half years. I've learned so much. I came into it a young man. Now I've dropped the 'young.'"
A native of New York, Leslie Odom Jr. was raised in Philadelphia. He made his Broadway debut at the age of 17 in Rent, before heading to Carnegie Mellon University's prestigious School of Drama, where he graduated with honors. He received a 2002 Princess Grace Award for Acting, which is dedicated to identifying emerging talent in theater, dance and film.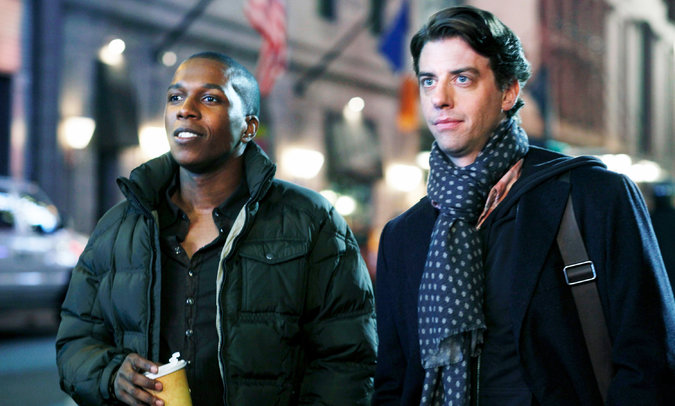 In 2003, Odom began a recurring role as Joseph Kayle on CSI: Miami, then appeared in 10 episodes of Vanished playing Maliko Christo. He also had roles on Big Day, Law & Order: Special Victims Unit, Person of Interest and Smash and has made guest appearances on Gilmore Girls, Grey's Anatomy and The Good Wife.
On the big screen he starred in the 2012 film Red Tails opposite Terrence Howard, Cuba Gooding Jr. and David Oyelowo.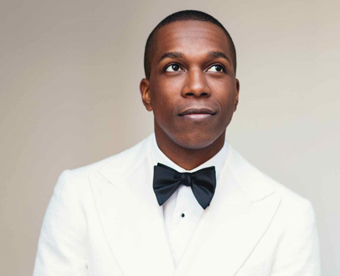 Additional theatre credits include Leap of Faith on Broadway, for which Odom won the 2012 Astaire Award for Outstanding Male Dancer and was nominated for a Drama League Award; the 2014 musical Venice, which also played at The Public Theater; and the Encores! Off-Center production of Tick, Tick... Boom! which was his first time working with Hamilton creator Lin-Manuel Miranda.
This summer, Odom reissued an updated version of his self-titled debut album, which was originally released in 2014. He appeared on NBC's Today earlier this month to sing Brazil.
An NPR story on Odom notes that "just a few years ago (he) grew so discouraged with his performing career that he started applying for jobs as a hotel clerk. After more than 15 years spent mostly under the radar, he's now something of a theater-world rock star, thanks to the buzz around Hamilton and his performance as Aaron Burr."
The New York Times' Michael Paulson wrote, "Night after night, re-enacting the most famous duel in American history, he slays the show's title character ... His performance, as a strategic striver, a jealous rival and a doting father, is magnetic."
The actor noted, "It is a profoundly healing experience to be a part of an original cast of anything, but especially of something this successful. For most of your career, what you're trying to do is to step into other people's shoes. Until you make a name for yourself, they're like, 'Be a little more Denzel,' 'Be a little more Wesley Snipes.' And so, an original cast, something like this, is where I've never heard so much 'yes' in all my life."
Established in 1986 through the generous support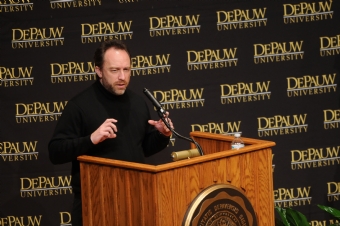 of 1958 DePauw graduates Timothy H. and Sharon Williams Ubben, the Ubben Lecture Series was designed to "bring the world to Greencastle" and has now presented 104 programs. (at left: Wikipedia founder Jimmy Wales spoke on March 30, 2011)
Previous Ubben Lecturers have included Mikhail Gorbachev, Margaret Thatcher, Bill Clinton, Peyton Manning, Tony Blair, Benazir Bhutto, Elie Wiesel, Jane Goodall, General Colin Powell, Yeonmi Park, Shimon Peres, Martin Luther King III, Willy Brandt, Jimmy Kimmel, Dan Quayle '69, F.W. de Klerk, Spike Lee, David Brooks, Lee Hamilton '52, Ralph Nader, Mike Krzyzewski, Bret Baier '92, John Major, Ron Paul, Andrew Luck, Michio Kaku, Piper Kerman, Ken Burns, Oscar Arias, Barbara Bush, Ambassador L. Paul Bremer, Todd Rundgren, General Wesley Clark, Bob Woodward, Greg Mortenson, Naomi Wolf, William J. Bennett, Ross Perot, Karl Rove, Howard Dean, Doris Kearns Goodwin, Eric Schlosser, Harry Belafonte, Leymah Gbowee, Sam Donaldson, David McCullough, Carl Bernstein, Jane Pauley, David Gergen, Mitch Albom, Julian Bond, Douglas Hallward-Driemeier '89, Brian Mulroney, Jim Alling '83, David
S. Broder, Candy Crowley, Liz Murray, Lester Thurow, Jason Reitman, Richard Lamm, Jim Lovell, ice cream entrepreneurs Ben Cohen & Jerry Greenfield, Sister Helen Prejean, Bill Bradley, Arne Duncan, Andrew Young, Paul Volcker, Paul Tsongas, Gwen Ifill, Rebecca Skloot, Mary Frances Berry, Zbigniew Brzezinski, George Will, Carl Rowan and many others. (at right: Karl Rove and Howard Dean debated at DePauw on September 11, 2009)
To view a complete roster of Ubben Lecturers -- which includes links to video clips and news stories -- click here. Video montages of many events are available on YouTube.
Back